Live Gold Chart
Yes a technical analysis of the spot gold price suggests that the big picture is bullish for gold, but we are in a correction that will lead to a great time to buy gold. Here is a chart of gold updated live.

I already own gold myself. I have some physical gold and I also own gold in my brokerage account through a gold etf.


I know that gold took a tumble in 2013, because it went into a cyclical bear market in 2011. That bear market ended with a huge turn around in the first few weeks of 2016.
Many are still scaring people by calling for more gold crashes, but they are mistaken.
In fact since the bear market is over you actually should be excited that it happened, because when bull markets follow they bring huge gains for those that invest in them. That's why I also own big cap gold stocks and small cap junior mining companies in my brokerage account too. They tend to move even more than the metal does so they make for a nice way to leverage a little investment.
Historical Gold Chart Analysis
Let me tell you why I am excited about gold right now. Ten years ago I managed a hedge fund and today I run a private mastermind group for accredited investors. Some institutional players are in it too. We all love gold right now.
You need to know how to interpret a chart to understand what I'm talking about. I take a market and divide it up into four stage. You get a stage two bull market, stage three topping market, and a stage four bear market.
Between a bear and bull market you get a stage one basing phase. Gold ended a stage four bear market last year so that means it's got bullish moves ahead of it.
These are the phases I'm talking about.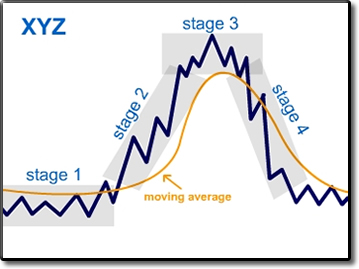 Here is a chart of gold stocks HUI index for the past few years.


I think you can see why I strongly recommend gold as an investment to watch right now. You can see how the HUI began a stage two bull market and so has gold, but also see how they are pulling back for a coming entry point.
To start get on my free email list for my next buy signal. Once you get in I'll email you a PDF report with my top gold stock pick. To begin scroll below to opt-in.