Is This New Bitcoin Stock Going to Be The Next To Launch Today? - Mike Swanson (12/07/2017)
By

Mike Swanson

on Thu, 12/07/2017 - 07:23
Well as you know RIOT went nuts Thanksgiving week after I mentioned it on a free email/blog post [2] like this one way back in October.
DO NOT BUY IT!
That was the stock of two weeks ago.
And I have another stock that I put on my top ten stock list in the Power Investor group that just went up for a 50% gain yesterday.
Yes, that's right 50% in one single day!
But it hasn't cleared resistance yet as it needs to close above 30 cents to do that.
Look at the chart: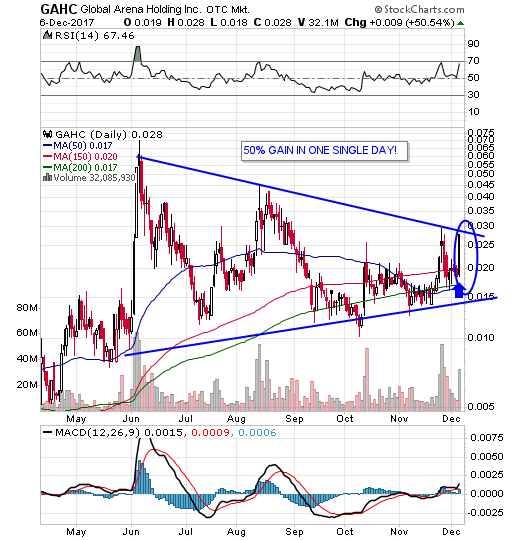 Warning this stock is a purely speculative microcap stock of a company that makes no money.
What the company does though is have a name linking it to the Bitcoin/blockchain trend which is now becoming a complete mania. This is not a stock to buy as an investment.
I'm hopeful that the stock will breakout here and go up, but this is just a fun trading play.
Yes - I believe Bitcoin is going higher into a speculative bubble blow off that will lead to a manic price top and then a complete and total crash like the internet stocks did in late 1999 into the spring of 2000.
But this is the final bubble run euphoric move in my view.
What is happening is that there are some micro-cap stocks being lifted up with Bitcoin.
And that is why GAHC went up 50% yesterday.
I placed it on my top ten list two weeks ago and there are two more bitcoin/blockchain stocks on the list that haven't moved yet and are secret.
This is how the top ten list works.
It's private and only for Power Investor members.
Once a stock on the list goes up and takes off then it can be mentioned on these free emails, but Power Investor members get in EARLY on a BUY POINT.
I can't say if I'd buy the stock now or if you should.
What I can say is that you should get into my Power Investor group!
This is some of what you'll get as a full member:
1)On Sunday I'm going to put out a Power Investor report and talk about what I have just put 20% of the bulk of my money into.
It's a new INVESTMENT position.
It has nothing to do with gold even though I still own gold and mining stocks and think they will do fine next year.
And it has nothing to do with commodities or the stock market.
You can get into the private Power Investor group with this backdoor link straight to the payment page:
http://wallstreetwindow.com/beta/privategroupjoin.htm [3]
2)That will also get you my options income reports too.
We are in crazy markets and selling options on stocks just going nowhere is a good way to make some extra income when it's impossible to make anything now with near zero rates.
3)I did a full Power Investor report this past weekend on Bitcoin and what is REALLY driving it up.
Bitcoin has NOTHING to do with gold or the US dollar.
It is NOT an alternative currency.
It is not going up, because people are using it as a currency, but because the masses are chasing it higher and the higher it goes the more they want to buy it.
And now people are looking for anything that has to do with Bitcoin.
That's why GAHC exploded for a 50% gain yesterday..
And that's why you need to get this report and get my next top ten stock (plus the two other secret Bitcoin stocks) and find out about my big 20% new investment position.
Just use this backdoor buy link to get in and I'll see you on the other side: