Some Positive Developments for Gold Stocks Are Happening - Mike Swanson (11/09/2017)
By

Mike Swanson

on Thu, 11/09/2017 - 08:24
Way back in 2011 the price of gold topped out and began a vicious bear market that lasted for five years.
That bear market ended last year and the GDX gold stocks ETF went up over 50% in 2016.
People got excited for a few months, but after it peaked it has since gone sideways and now the masses are totally asleep on gold and mining stocks, because they only chase something that goes up fast. That's why CNBC "Fast Money" goons only talk about the top gainers of the day and never talk about buying on dips.
And it's why so many new people are getting into Bitcoin. The big gains attract attention!
I am not asleep on gold though and I have a portion of my own money invested in both physical gold and mining stocks.
Gold is a sleeping giant which will rise and shine in 2018.
To get the list of gold stocks that I personally own then you need to get my top ten list of stocks inside the private Power Investor group - which you can get into here:
Options + Power Investor Combo Deal
Seasonally the gold price chart tends to have it's best time of year from December to the spring.
I've been expecting gold to really start to go up after the December Fed meeting, but right now it is starting to perk up and so are the mining stocks.
The best way to make money in a sector like gold is to own the best stocks that pay dividends.
One of the miners I own went up over 5% in one day a few days ago.
However in today's market most people are driven to play ETF's and there are two ETF's that you should avoid at all costs when it comes to gold stocks, because they are TOTALLY TOXIC.
I'm talking about the 3X ETF's JNUG and DUST.
JNUG is a 3X long ETF and DUST is a 3X short ETF.
In theory JNUG should go up at three times the rate of gold stocks and enable you to triple your money in a gold bull market, but it does not work that way in reality.
The problem is that these 3X ETF's are created in a way that they DECAY over time and simply lose their value, because they own futures and options contracts that lose money (remember most options and derivatives expire totally worthless).
Take a look at this chart of JNUG: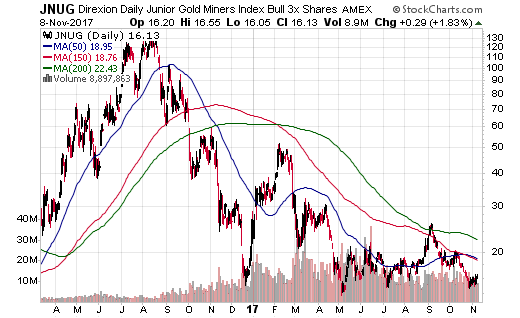 As you can see JNUG is near a low.
Gold stocks and the GDX gold stock ETF though are not that far from their September highs!
And look at DUST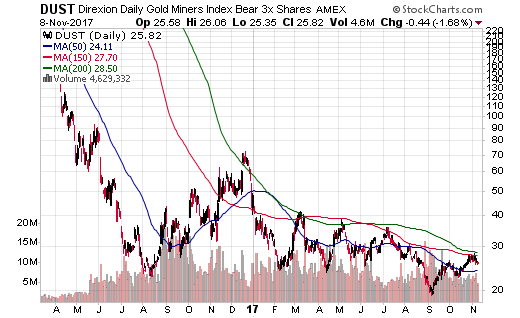 DUST has similar chart! JNUG is a 3X long ETF and DUST is a 3X short ETF and yet both are losing value and near their lows!
When the underlying asset of a 3X ETF goes sideways the ETF loses value and decays.
It becomes a totally toxic situation to those that own the ETF's and drives 3X ETF's traders into make desperate gambles to make up for the losses.
With gold stocks you can own the right stocks and get dividends and have fun.
With 3X ETF's you can just lose money tied up in a toxic situation of doom.
This is why I decided months ago to stop listening to any gold expert who advocates trading these ETF's.
I rather talk with people like David Skarica who are on top of what is going on with individual stocks and are getting into deals and situations to take advantage of what is coming.
Last Saturday I talked with Dave about some new stocks that we both are buying in a live Youtube video.
To watch this video recording go here:
http://wallstreetwindow.com/node/13841
if this is the first time you have come to this website then you need to get on my free action update list by going here.
Grab This Free Report: My Top Options Trading Setup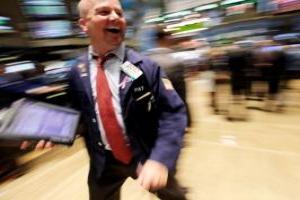 This free special WSW report is devoted to my top options trading setup. I do this one simple trade at least once a month.
Grab it and get along with it our future stock market action updates. Do not think about buying any other stocks or options before you read this report. To get this report click here