Why I Am Watching this Strange Bitcoin Block Chain Stock - Mike Swanson (10/23/2017)
By

Mike Swanson

on Mon, 10/23/2017 - 07:25
Now you might also be interested to know that I just added a "block chain" stock to my personal stock watchlist.
There is nothing hotter this year in the financial markets than Bitcoin and this stock has gone up by associating itself with Bitcoin and block chain technologies.
There is a mania in Bitcoin to say the least.
There is simply no way to say what a Bitcoin is actually worth and so people are playing it based on pure price movement and nothing more.
The more Bitcoin goes up the more people believe in it and the more people buy it.
If anything this year proves that.
It's like the internet stocks back in 1999 in my opinion.
And there is actually a once dormant biotech stock that has risen up this year by changing it's name to Riot Blockchain.
The symbol for it is RIOT. Take a look at the technical analysis chart.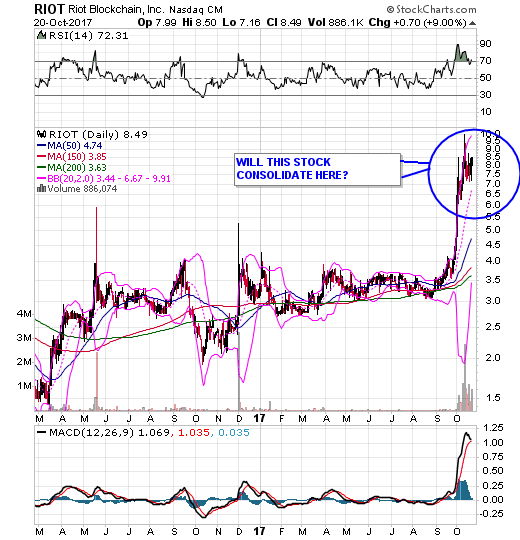 This RIOT stock was a bitoech stock and the company makes zero money.
But by associating itself with Bitcoin it more than doubled in September.
And this month it announced that it was buying out some block chain company and a crypto currency exchange.
I have no idea if the company is good or not or even if this is fully for real, but it doesn't matter.
We are not in a market where valuations matter, but stories do.
Watch CNBC tonight and you'll probably see the "Fast Money" Pony Tail guy say buy TSLA for the dream even though it loses money. Pony Tail guy is now the most important thought leader on CNBC today displacing Steve LIESman who used to deliver leaks about coming QE programs.
Every bull market cycle ruins a once popular bear for good That is what has happened now to Marc Faber as both CNBC, Bloomberg, and Fox Business have declared that they will not put him on the air again after his remarks last week about whites and blacks.
But is that also an opportunity to kick him when he is down? The Wall Street Journal quoted someone from Bloomberg as claiming that he has "waning market influence."
At the same time each bull market cycle as it reaches fruition causes a group of bubble bulls to grow in such popularity that they become thought leaders of the markets.
This was the case with Jim Cramer in 2007 and Mary Meeker and Henry Blodget in 1999 and with today's Fast Money boys.
But it's a lot of hype stocks then and now.
The thing is back in 1999 there were stocks that were dormant that would become internet stocks and soar. Books-A-Million in Thanksgiving week of 1999 said it was launching a website and saw it's stock price triple in a few days. Two years ago it sold itself for $21 million, which was a fraction of the market cap it achieved in November of 1999.
Will this RIOT stock go up again?
I'm not sure and that's why I am not buying it today.
But if it can digest these gains by consolidating for a few more weeks it can then get in a position to go up again with a good entry point.
I'm going to see if it can do it - that's what watch lists are for.
If it does this may become my Christmas Bitcoin block chain play - it's something for a trade and not an investment.
We'll see what happens.
If this is the first time you have come to this website then you need to get on my free email list to get my next action update. Do that and you'll also get my report on my favorite options trading setup. Just click here.
Grab This Free Report: My Top Options Trading Setup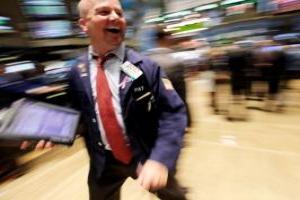 This free special WSW report is devoted to my top options trading setup. I do this one simple trade at least once a month.
Grab it and get along with it our future stock market action updates. Do not think about buying any other stocks or options before you read this report. To get this report click here