Take a Look at these APPL and GOOG Stock Charts (Plus Gold Update) - Mike Swanson (09/21/2017)
By

Mike Swanson

on Thu, 09/21/2017 - 08:53
On Monday morning in a post and email I talked about NVDA's Friday breakout last week and noted how AMD looked ready to pop.
Well it went up 4.73% yesterday alone
.
I got two charts that got my attention today.
First I need to note that yesterday the Federal Reserve met and announced that it was going to begin to reduce it's balance sheet and predicted that it would raise rates in December and several more times next year.
The latter was a much more hawkish talk than what Janet Yellen gave in July and somewhat unexpected.
So the markets made some gyrations and gold fell below $1,300 now and appears to be establishing a new resistance and support trading range now after it went through $1,300 a few weeks ago.
Often on such a breakout old key resistance becomes new support, but firm support is likely to be in the $1,280 area for the rest of the year.
Here is the thing though why did the Fed give this surprise in the statement?
Most likely it is responding to the recent stock market rally this month and feels like it must take advantage of it so it will do everything it can now to get that December rate hike in.
After that it really made its predictions for 2018 yesterday totally dependent upon the inflation picture which it has no control of and there is no sign anything is changed.
Now people are trying to jump into the next hot stock so take a look at these two charts.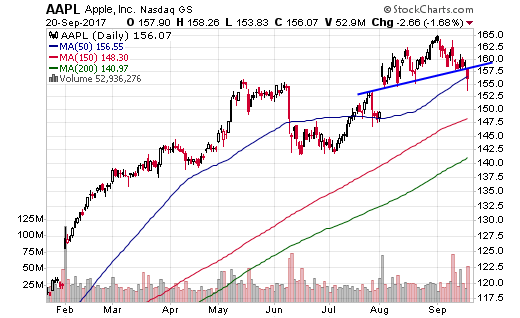 Apple become one of the top fad stocks to trade going into the new Iphone release this month, but since that announcement it has sold the news and yesterday broke through the $157 support level as you can see in the chart!
So if you want to play a quick trade I would stay away from it now.
Traders bought the Iphone rumor and sold the news with beefy volume!
I'm not trading it, but a better possible setup on the long-side now exists in Google: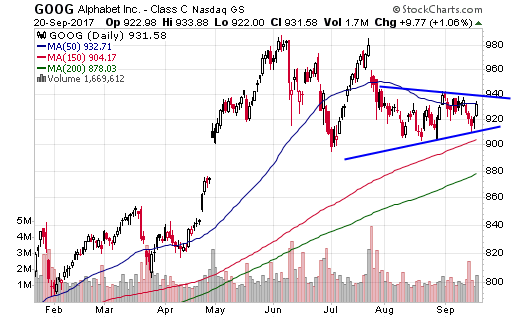 Google is trading in a very simple resistance triangle since it peaked in July.
It's been lagging the market averages since that peak, but we will soon see if this triangle is a consolidation pattern or a topping pattern.
If GOOG closes above $940.00 before the end of this month I'd look for a rally back up to the July highs.
However, if it breaks the lower trendline and through its 150-day moving average at $904.17 than GOOG it is likely to dump to $880.
We don't need to predict which way it is going to move to make money and I don't have a firm conviction on which way it might go only that it will make a move once it resolves this pattern.
In fact with the market rallying into the Fed and the Fed being more hawkish in its statement yesterday we could easily see the market have another one of it's little pullbacks for the next few weeks into October earnings season.
If GOOG really is going to breakout it should do well for the rest of this week so if it's down today and Friday I'd take that as a bad sign.
Frankly I'm watching GOOG because if it breaks support I'm likely to just sell call options for income to GOOG call gamblers!
That's the type of setup I like and I'm watching several possibilities.
To get my next options alert BEFORE THE PRICE GOES UP go here:
Grab This Free Report: My Top Options Trading Setup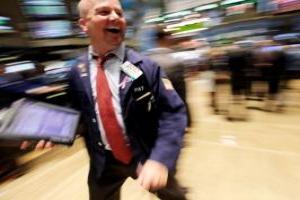 This free special WSW report is devoted to my top options trading setup. I do this one simple trade at least once a month.
Grab it and get along with it our future stock market action updates. Do not think about buying any other stocks or options before you read this report. To get this report click here