A New Gold Trading Pattern Is Asserting Itself Over the Stock Market - Mike Swanson (08/28/2017)
By

Mike Swanson

on Mon, 08/28/2017 - 08:30
Here is a funny fact for you. Right now the price of gold is up MORE than the S&P 500 is year to date.
And this is a fact despite the fact that everyone is bullish on the stock market and gold itself has been in a trading range capped by $1,300 resistance this year too.
Gold needs to rally through that $1,300 level to begin another real bull rally.
I think it can do it and will do it.
I talked with Jordan Roy-Byrne this weekend and he thinks so too. Interview posted here:
http://wallstreetwindow.com/node/13609
I want to show you two interesting things on the gold chart.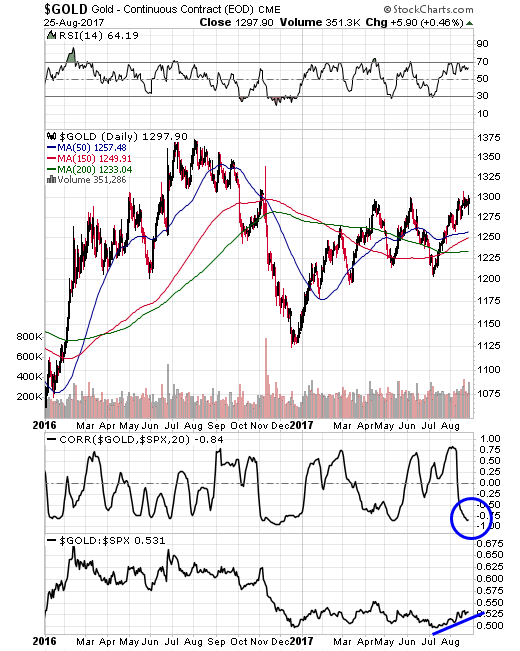 I have two technical indicators on the bottom of this gold price chart.
The first one is the correlation of gold to the S&P 500.
Since the DOW last made it's peak gold has been trading at a negative 0.84 correlation to the S&P 500.
This means that gold is trading opposite to the stock market right now.
In other words it is acting as a safe haven by going up when the stock market is weak.
The indicator below that is the relative strength of gold to the S&P 500 ratio indicator.
It is now going up too to show that it is outperforming gold.
I think gold is going to go up more and go up a lot once it goes through $1,300 an ounce, which will of course drive a huge move in gold stocks.
But at this moment in time I also see huge stock market risks coming that will help gold.
To make a long story short I think we are headed for a Fall drop that will be fueled by political instability in Washington DC.
I talked about that a week ago in a video I did last week:
Donald Trump Is Now A Stock Market Risk Factor - Mike Swanson (08/21/2017)
The implications of this are clear.
There is ZERO REASON for anyone to be fully invested in the US stock market now.
And I believe everyone should have some money in gold right now.
Listen to the Jordan interview here:
http://wallstreetwindow.com/node/13609
If this is the first time you have come to this website then you need to get on my free action update list by clicking here.
Grab This Free Report: My Top Options Trading Setup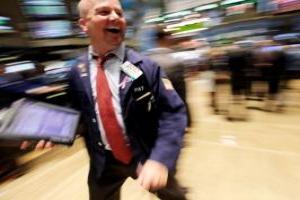 This free special WSW report is devoted to my top options trading setup. I do this one simple trade at least once a month.
Grab it and get along with it our future stock market action updates. Do not think about buying any other stocks or options before you read this report. To get this report click here