What Some Stocks Are Doing Now is Crazy - Mike Swanson (07/20/2017)
By

Mike Swanson

on Thu, 07/20/2017 - 08:25
We saw a lot of stocks go up huge in May and then have key reversal days on June 9th on high volume.
NVDA for instance went up over 68% in less than six weeks.
Then it had a big down day.
That action looked like the makings of a potential top or the start of a healthy consolidation pause that could last for months.
But now NVDA is back up on it's high.
It's hard to expect a stock that went up 68% in such a short-term amount of time to immediately begin another big run like that.
But some stocks are in a position where they look like they could take off into bubble top runs.
FB is one example.
Take a look at this technical analysis chart.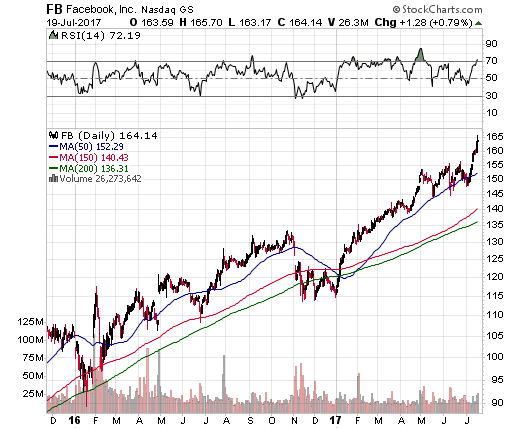 As you can see FB has been going straight up at an 85 degree angle for the past ten trading sessions.
An advance at that angle is not sustainable forever.
Now it can go on for a few more weeks.
But if it goes on beyond this month and continues into August it will have all of the makings of a parabolic bubble top.
We'll see what happens.
We live in very interesting times!
Bulls can make money and bears can make money when they have game plans.
But today we are getting to a point where many are simply chasing stocks without a plan of when they will sell.
I talked about this in a video session I did last night for you:
http://wallstreetwindow.com/node/13501

I also posted an interview I did with Jim Goddard about the stock market and Fed policy:

http://wallstreetwindow.com/node/13503
And I posted a David Skarica update with Palisade Capital about the trends in gold stocks:
http://wallstreetwindow.com/node/13502
If this is the first time you have come to this website then get on my free action update list by clicking here.
Grab This Free Report: My Top Options Trading Setup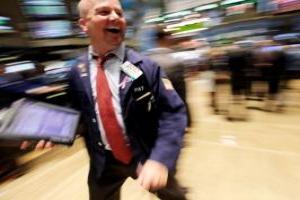 This free special WSW report is devoted to my top options trading setup. I do this one simple trade at least once a month.
Grab it and get along with it our future stock market action updates. Do not think about buying any other stocks or options before you read this report. To get this report click here