Mike Swanson "What Is The Purpose of the National Security State?" - JFK & The National Security State (07/17/2017)
By

Mike Swanson

on Mon, 07/17/2017 - 07:13
The Future of Freedom Foundation was pleased to host one of the most fascinating, important, and relevant conferences in it's 27-year history.
Entitled "The National Security State and JFK," the conference was held on Saturday, June 3, 2017, at the Dulles Airport Marriott in Northern Virginia.
I spoke at this event and you can watch my talk in the above video.
The entire series of videos for this conference can be found here.
Grab This Free Report: Our Top Mining Stock Pick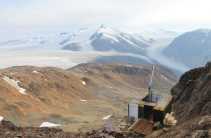 This free special WSW report is devoted to IDM Mining and why it is currently our top mining stock pick.
Grab it and get our next gold price entry point. Do not think about buying any other gold stocks before you read this report. To get this report click here