Will You Be Ready to Buy The Next Time Everyone Else is Selling? - Mike Swanson (07/12/2017)
By

Mike Swanson

on Wed, 07/12/2017 - 09:21
The Total Portfolio Package Offer goes down tonight:
http://wallstreetwindow.com/stockmarketupdatejuly.htm
The last time I offered ANYTHING for sale was back in March and I probably will never offer this deal again.
It includes my Bear Market Power Pack - which has in it a critical video module showing you my ETF money management system designed to automatically do some selling on rallies and tops and buying on bottoms.
This is huge, because most people simply chase.
They end up buying into tops AFTER things have gone up a long time and then watch their positions drift slowly down.
Then they get scared once they lose about 10-15% of their money and sell in panic.
Then they sit there see something go up a lot and decide to try to gamble again.
That is the real cycle of the stock market.
And it happens with individual stocks.
Yesterday before the opening bell I said that SNAP was the next fad stock poised to crash.
Well it dumped over 8% by the end of the day.
Take a look at the technical analysis chart.
The reason why SNAP dumped is because people bought into a lot of hype when it opened up in March and then gapped up the next day over 15%
That gap up made small fries watching SNAP to chase and buy.
They love to do their buys on gap ups.
At the same time insider selling data shows that insiders used the IPO to dump over a hundred million dollars worth of their shares.
A lot of hype surrounded SNAP, because tech bubble bulls said it could grow like Facebook.
But the stock slowly fell and people just held on.
Then when it broke $17.00 yesterday panic selling came in for an almost 9% drop in one single day.
I didn't predict the future when I saw yesterday morning that SNAP was going to become the next fad stock to begin to collapse I simply looked at the charts of them all and saw the obvious with SNAP.
The masses are all-in the stock market and other fad tech stocks too.
This image below is from the Ameritrade Index and it made an all-time high last month.
Ameritrade puts out this index by taking a look at what all of its millions of customers are doing in aggregate.
The index is based on how much buying, margin, and even risk people are putting on their account.
And last month it made a record.
Their top stock buys in Ameritrade were FB, AAPL, AMZN and TSLA.
Yes - TSLA!
Right before it dumped!
And the same old fad favorites that all had key reversal days on June 9th and appear to be in the process of making a floating top.
The Ameritraders tend to buy on tops and sell on bottoms and when they are all-in that's not a bullish sign for the market.
The time to buy is when they panic sell.
Will this index make a new high this month?
It needs to in order to get the big run everyone is betting on!
But the real money is made buying on dips.
This is one reason why I believe NOW is the time to take some money off of the table and to plan ahead.
Look at what has been falling for the past month and is up a lot today.
There is no better way to become a better trader and investor then to grab my Total Portfolio Package and get into my Power Investor Group:
Once you do that every week you will get my comprehensive PDF reports and my trading alerts.
It will keep you informed at all times and that is how you stay ahead of the game:
Grab This Free Report: My Top Options Trading Setup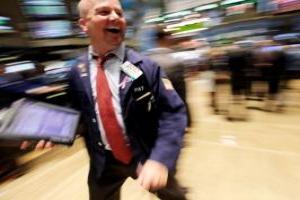 This free special WSW report is devoted to my top options trading setup. I do this one simple trade at least once a month.
Grab it and get along with it our future stock market action updates. Do not think about buying any other stocks or options before you read this report. To get this report click here