This Popular Fad Stock Is About to Crash Next - Mike Swanson (07/11/2017)
By

Mike Swanson

on Tue, 07/11/2017 - 08:14
On Sunday I did a comprehensive video update on the stock market.
And I also announced for sale this week my Total Portfolio Package.
It includes my three main books and my Bear Market Power Pack course and a trial to my private Power Investor Service.
The last time I did any offer was back in March and this one will end Wednesday night.
I've put the video of the Sunday session up on the offer page too.
So to watch the video and grab the Total Portfolio Package just go here:
http://wallstreetwindow.com/stockmarketupdatejuly.htm
In the video session I went over the 50 top performing stocks in the Nasdaq 100 to determine what is really happening INSIDE the stock market.
When looking at this among other factors I believe NOW is the time to take money off of the table.
The situation is a bit similar to the way things were last August when it comes to the market averages in the sense that they have lost steam and volatility has vanished.
But the situation with individual stocks that have been the market leaders is much worse, because many of them had key reversal days on June 9th.
And some of the most popular fad stocks are dumping.
You saw TSLA blow up last week.
On Monday Best Buy dumped over 6% and so did Abercrombie and Fitch as it crashed 21.13%.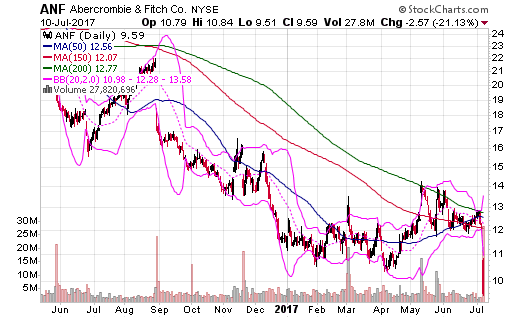 Here is the next stock now in a position to dump on people: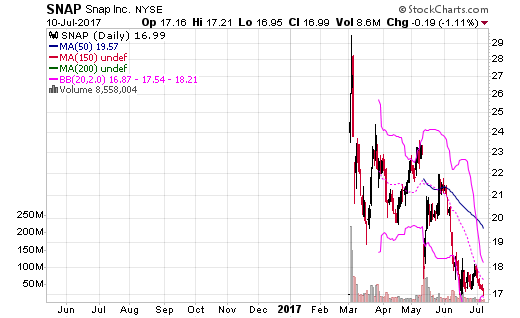 This is a technical analysis chart of SNAP.
It was the IPO of the year and when it opened up I even saw a TV talking head say that we should buy it "at any price."
And now look where it is.
It is not only below the IPO price but just closed to make an all time low yesterday.
I have no idea where price support is.
It is trading at a P/E of -5.56.
That means the company is losing a lot money.
There are no earnings in the E.
And it's going to get worse.
Analysts are projecting losses of $49 a share next year, because the company is operating at a negative -510% operating margin.
The important thing is that what it means is that hype is starting to fade in the stock market.
SNAP is a dream stock like TSLA.
And both are now acting as millstones on shareholder's necks.
SNAP is a garbage stock!
If there ever was a stock that deserved the label POS it is SNAP.
It's just a phone app.
Last night Guy Adami called a bottom in TSLA on CNBC's "Fast Money" Show.
Don't listen to him!
I sure won't!
I talk to smart people on top of the market and not Fast Money goons.
There are a lot of smart traders out there, that care about what they do and what they say.
A lot.
The thing is lots of fad stocks are now not acting right.
The problem is that few people know this is happening, because all they do is look at an ETF ticker and think that is all they need do to know about the stock market.
You have to do real work to have your pulse on things and I break it down in my video:
http://wallstreetwindow.com/stockmarketupdatejuly.htm
The reality is that important stock market turning points happen AFTER big rallies and during the summer when everyone falls asleep and is no longer paying any attention.
This is why you need to grab the Total Portfolio Package and then every week you will get my comprehensive PDF reports and my trading alerts.
It will keep you informed at all times and that is how you stay ahead of the game:
Grab This Free Report: My Top Options Trading Setup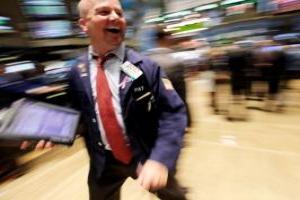 This free special WSW report is devoted to my top options trading setup. I do this one simple trade at least once a month.
Grab it and get along with it our future stock market action updates. Do not think about buying any other stocks or options before you read this report. To get this report click here