You Need to See this Stock Market Chart (It Shows What is Really Happening) - Mike Swanson (07/07/2017)
By

Mike Swanson

on Fri, 07/07/2017 - 09:11
In case you missed it on July 4th I did a CRITICAL stock market video in which I showed why we are now heading for a period of heightened stock market volatility:
http://www.wallstreetwindow.com/node/13457
Now I know that last night on CNBC's Fast Money show the "Options Monster" ponytail guy said to buy GOOG and another of the "Fast Money" boys said buy NVDA even though the Nasdaq is now leading the market down, but I believe that we are now entering a new phase of market action and people are not ready, because it feels like the stock market has barely been moving up or down on any given day for months.
And I know today Steve LIESman is on CNBC talking about an economic boom as the DOW futures are up about 40 in pre-market trading after the DOW fell almost 150 points yesterday.
But it is "green shoots" - to borrow an old Ben Bernanke phrase - they see and everyone else is bullish too.
Recently though all the opening gap ups have been sold by the end of the day.
The views of the stock market masses are eventually going to change as the stock market swings continue and we got to get ahead of it.
So on Sunday I plan on holding a live video session at 8:00 PM EST to help you do just that.
I'll send you an email on Sunday for you to get in.
Now we have seen some interesting things happen this week.
Of course TSLA blew up and now the TSLA stock rally is OVER.
But so did MU last week and ORLY this week.
And NFLX is now acting like crap.
Apple is becoming a dud again.
Every trading day I post links to the top stories I am following that day before the open and usually a few blog posts on the front page of WallStreetWindow.com.
Yesterday I posted an interview I did with Jim Goddard about what I think is now happening in the market and the fundamental reason that a clock is now ticking.
http://www.wallstreetwindow.com/node/13462
The reality is that when the Fed minutes were released on Wednesday they revealed that Fed members are also actually worried about the stock market now.
I posted their remarks here - this will show you what they are concerned about:
http://www.wallstreetwindow.com/node/13463
But look at this technical analysis chart: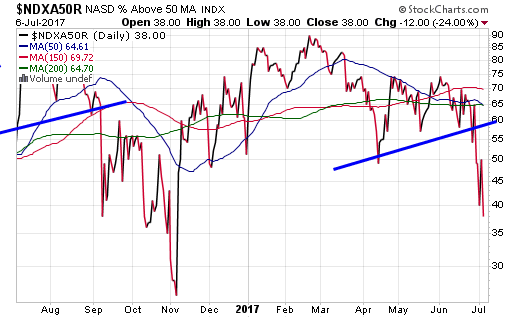 This is the percentage of stocks trading in the Nasdaq 100 index above their 50-day moving average.
It began to diverge away from the market in February and did not rally above its April high in May despite the fact that the market had a big rally and many of the fad momentum stocks had HUGE moves up that month.
But this indicator did not move up and so it warned us that something was wrong.
It was a huge tell!
And now that indicator is plunging.
Yes the Nasdaq itself is now below it's 50-day moving average.
But this indicator action is warning that the Nasdaq is now heading for its 150 or 200-day moving average next!
The era of the VIX trading below $10.00 is now over and that means big swings down and up are coming.
But that's ok, because volatility brings the biggest opportunities you can get trading.
I'll see you Sunday night.
And if you missed my critical Tuesday video go here:
http://www.wallstreetwindow.com/node/13457.
If this is the first time you have come to this website then you need to get on my free action update list by clicking here.
Grab This Free Report: My Top Options Trading Setup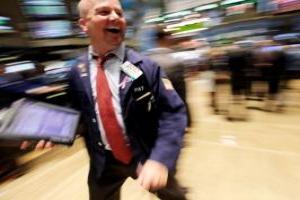 This free special WSW report is devoted to my top options trading setup. I do this one simple trade at least once a month.
Grab it and get along with it our future stock market action updates. Do not think about buying any other stocks or options before you read this report. To get this report click here