Ron Paul Warns CNBC Bubble Girl Stocks Could Dump by October (07/03/2017)
By

wsw staff

on Sun, 07/02/2017 - 19:36
Ron Paul's remarks annoyed bubble girl, but he made them anyway.
"People have been convinced that everything is wonderful right now and that stocks are going to go up forever," Paul said.
"I don't happen to buy this. The old rules always exist, and there's too much debt and too much mal-investment. The adjustment will have to come," he added.
Grab This Free Report: Our Top Mining Stock Pick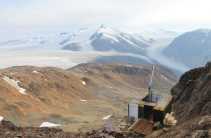 This free special WSW report is devoted to IDM Mining and why it is currently our top mining stock pick.
Grab it and get our next gold price entry point. Do not think about buying any other gold stocks before you read this report. To get this report click here