Don't Do These Garbage CNBC "Fast Money" Trades - Mike Swanson (06/30/2017)
By

Mike Swanson

on Fri, 06/30/2017 - 08:28
We have seen what appears to be a key reversal day put in the "FANG stocks or what the WSJ dubs the "FAST FIVE" on June 9, 2017.
These are the big cap tech momentum fad stocks that have led the market up until they reversed on June 9th.
May seems to have been a speculative blow-off typified with the close trading correlation between stocks like this and even between NVDA and bitcoin, which has been little noticed and almost hidden to people.
At best the stock market is now starting a consolidation period to lead to another move higher later and at worse it is starting a topping process that will lead to a massive dump this fall.
I lean to the latter, but it doesn't matter for this moment in time.
The important thing is that the implication is that NOW is the time to be cautious on the stock market if you want to buy.
The last thing you want to do is just chase things making fake moves.
And last night on the CNBC "Fast Money" show at the end the talking heads yelled at the audience to do that with a bunch of garbage trades.
It is very risky to try to jump into one of these trades right now.
Let me show you why with one example.
Take a look at this chart of IBB: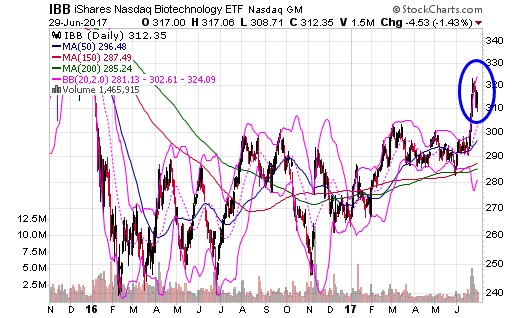 IBB is an ETF for the biotech sector.
It was a top sector for a few days this month when it had a nice pop the other week.
And so it got on the "FAST MONEY" radar.
But it is not in a position to skyrocket here today or on Monday or even next week.
This could very well end up being a fake breakout, because such things happen when a market starts to get unstable.
And we got signs of instability now with the FANG fade.
But if this is going to lead to a real move this IBB ETF is going to digest this move and pause for a few weeks to give a good entry point before breaking out.
So you can wait for that to happen to see if the bulls are right.
That's a game plan.
Just buying because some nut on TV started to yell buy, because that is what "FAST MONEY" does night after night is reckless at this point.
But that is CNBC and Fast Money is a show that goes to new lows.
The big point out of this though is that this is basically the whole story of the stock market now.
Don't press trades.
Take some money off of the table if you are fully invested!
Grab This Free Report: My Top Options Trading Setup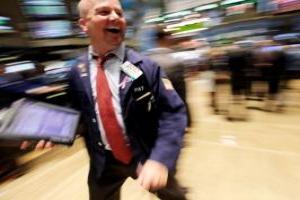 This free special WSW report is devoted to my top options trading setup. I do this one simple trade at least once a month.
Grab it and get along with it our future stock market action updates. Do not think about buying any other stocks or options before you read this report. To get this report click here