Why Stock Market and Gold Predictions Are Useless Right Now - Mike Swanson (06/27/2017)
By

Mike Swanson

on Tue, 06/27/2017 - 09:13
You have been hearing lots of predictions for stock market gains or crashes and crashes for gold stocks this year and they are all useless.
I just posted a new video for you on how we will know FOR SURE when the stock market rally is over for you:
When Will the Nasdaq Rally End? - Mike Swanson (06/27/2017)
No one can predict exactly what the market is going to do and those that have kept predicting gold crashes have been proven wrong again and again this year too.
You saw that on Monday when gold gapped down almost $20 and the gold mining stocks barely fell.
But gold is not at $10,000 either yet and it is tough to be bullish on gold when everyone calls for a crash and almost no one says to buy.
Harvey Dent is saying gold is going to $700.00.
But making money in the markets is not about predicting the future and you do not need to predict the future to make money.
Yes I know gold seems uncertain, because it goes up and down each day and how do you know when a move is real or not?
That is the question.
We saw several moves this year up to $1,300 stall out!
So how will you know if the next rally will be a real or a fake?
Well there is ONE indicator that makes it so you do not need to depend on ANYONE'S predictions to know.
And that is the GDX/GLD relative strength indicator, because it is a leading indicator.
What it measures is the performance of gold mining stocks relative to gold.
When gold and gold stocks are in a real sustainable bull run this indicator trends up, because gold stocks go up more than gold does in such situations.
And in corrections the mining stocks fall more than gold when they start and stop doing that when gold corrections near their end.
Take a look at it now: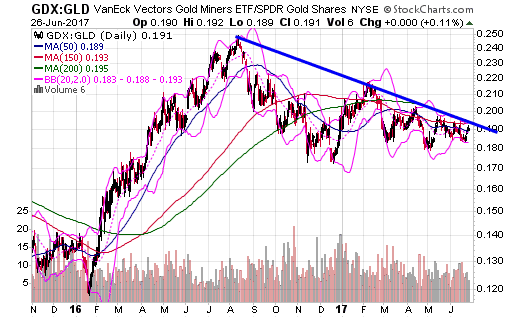 When gold fell yesterday this indicator actually went up to flash a powerful positive divergence.
This indicator is close to breaking out as it is right under resistance.
Once that happens the next big gold bull run will begin and you can expect the mining stocks to go up huge.
This isn't about predicting the future, it's about knowing what is important and what tells you when a new big trend development is starting.
When you are armed with the right tools stock market and gold predictions are unnecessary and totally useless.
That gives you the power to make your own decisions.
And with the Nasdaq here is the key technical analysis indicator I'm watching now to spot the end of the current stock market rally:
Grab This Free Report: My Top Options Trading Setup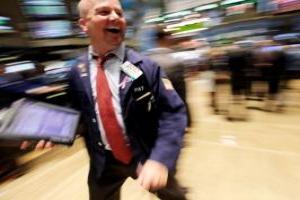 This free special WSW report is devoted to my top options trading setup. I do this one simple trade at least once a month.
Grab it and get along with it our future stock market action updates. Do not think about buying any other stocks or options before you read this report. To get this report click here