Marc Faber Sees Coming "Epic" Decline in Stocks Coming (06/26/2017)
By

wsw staff

on Mon, 06/26/2017 - 08:56
"We've had more than eight years of a bull market. The Nasdaq is being driven by very few stocks," said Faber on Friday CNBC's "Trading Nation Show". That rally "is not a particularly healthy sign from a technical point of view, and valuations are very high," the investor added.
When Faber says this you can hear the CNBC girl sigh in anger - it's totally unprofessional - but THAT is CNBC.
Grab This Free Report: Our Top Mining Stock Pick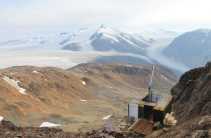 This free special WSW report is devoted to IDM Mining and why it is currently our top mining stock pick.
Grab it and get our next gold price entry point. Do not think about buying any other gold stocks before you read this report. To get this report click here