Jim Goddard Show: Is Gold Going to $700 or $1,300? - Mike Swanson (06/22/2017)
By

Mike Swanson

on Thu, 06/22/2017 - 06:56
Many are bearish on gold and gold stocks now while most are simply TOTALLY asleep on both with no care about them.
Jim Cramer does not talk about them.
But now is not the time to be asleep, but to keep your eyes fixed on them.
Seasoned investors know the pattern and know what is going to happen.
Grab This Free Report: Our Top Mining Stock Pick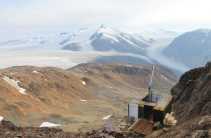 This free special WSW report is devoted to IDM Mining and why it is currently our top mining stock pick.
Grab it and get our next gold price entry point. Do not think about buying any other gold stocks before you read this report. To get this report click here