Will Today's Fed Meeting Move Gold Prices as Positive Divergence Forms? - Mike Swanson (06/14/2017)
By

Mike Swanson

on Wed, 06/14/2017 - 07:59
Today the Fed is going to release an FOMC decision after 2:15 PM which may prove to be one of the last if not THE last interest rate hike going forward.
And the action in gold over the next 72 hours may signal the start of the next big gold bull run.
A positive divergence has formed on the 60-minute GDX chart if you look at the GDX/GLD ratio on the hourly charts.
Over the past week gold stocks have been outperforming gold, which is causing the GDX ratio to trend up while gold has dropped.
You can see this on this chart for yourself: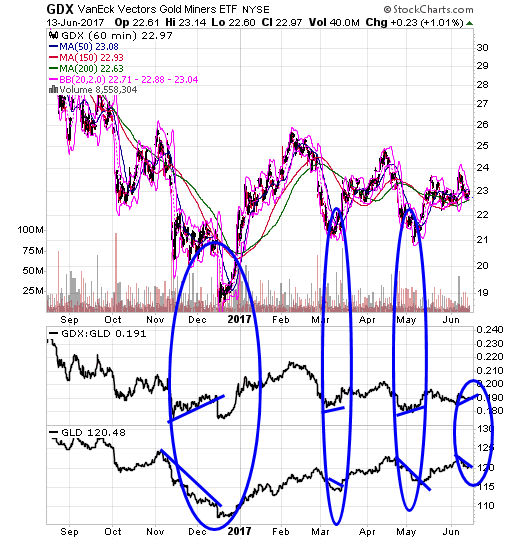 I've circled the last three times that this indicator made a positive divergence on the gold price chart.
Now when it happened in December it happened going into that December Fed meeting.
And gold sold off after the decision to make a massive gap down the next day.
That gap down was a key bottom for GDX gold stocks ETF, but it was a big gap down.
The thing is the drop into the close after that Fed decision was a warning that a gap down was likely.
However, the positive divergence in the relative strength GDX/GLD ratio and the price of gold was a tip-off that any drop like that would be a buying opportunity.
And it was.
But then in March when gold pulled back on the bottom GDX just settled down when the GDX/GLD ratio turn up and then went back up.
And in May this indicator firmed up INTO the last Fed meeting.
Then on the last Fed FOMC day gold and gold stocks gapped up a bit and then just kept going up.
So I cannot predict exactly what will happen today or after the Fed meeting.
But a positive divergence is forming now with the GDX/GLD ratio as it has trended up a bit over the past week as gold has dipped.
That is telling me gold and gold stocks are fueled up to go.
All you need to do is watch the $24.00 level for GDX.
If you get a close above that then gold and gold stocks are going to take off (and silver too).
The indicators are primed.
And if gold ends up selling the Fed news look for a key bottom formation over the next 72 hours.
So we are either heading for a breakout or a dip buy point in the next 72 hours.
As for the Fed itself you can expect them to raise rates and then keep to their expectations for big economic growth and interest rate hikes to come, BUT we are reaching the end of this rate hiking cycle.
The Fed is going to pretend like this isn't the case, but it is.
I say that because long-term rates have defied economic boom predictions by falling and the Fed is not going raise short-term rates higher than long-term rates.
The yield curve is flattening out.
Expect the Fed to try to distract you from this reality by talking about pairing back its balance sheet instead of raising rates soon.
It will be a distraction to try to hide the fact that they are at the end of the rate hike cycle.
And that is what is going to be a catalyst for higher gold prices.
Watch the $24.00 level on GDX.
Watch these ratios, but you can watch for a closing price above $24.00 to signal the shift from consolidation to bull run for precious metals and mining stocks.
If this happens you will need to act if you want to get involved.
Making trading decisions is not about predicting the future, but being ready for moves with a plan ahead of time.
And no this is not to say go buy a toxic ETF like JNUG, but to act in your own way!
Here is the talk I did with David Skarica. In it we discussed some specific individual stocks that we own:
Grab This Free Report: My Top Options Trading Setup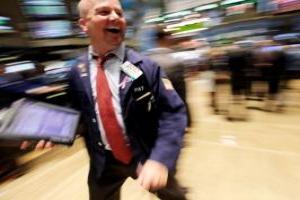 This free special WSW report is devoted to my top options trading setup. I do this one simple trade at least once a month.
Grab it and get along with it our future stock market action updates. Do not think about buying any other stocks or options before you read this report. To get this report click here