Gold Stocks Are Now Fueled Up For Launch - Mike Swanson (06/07/2017)
By

Mike Swanson

on Wed, 06/07/2017 - 08:38
Wow.
Yesterday gold rallied up towards $1,300 and gold stocks went up a lot.
Many of the big cap mining stocks such as FNV and RGLD broke out and turned up a few weeks ago.
However, the GDXJ rebalancing issues and the simple mess engulfing that ETF has hurt a lot of small mining stocks and created a total disaster for JNUG players.
That JNUG mess has caused a lot of gold bugs so much trouble that they have become defeated mentally and so few have been bullish on gold stocks lately.
And yet big cap mining stocks have been doing just fine and so have small cap stocks not in GDXJ!
Now the most important indicator for mining stocks is the GDX/GLD relative strength ratio.
When that ratio breaks out then the sector will begin its next big bull run.
And it is now getting in a position to do that soon this month and that means that gold stocks are now fueled up for launch.
Take a look: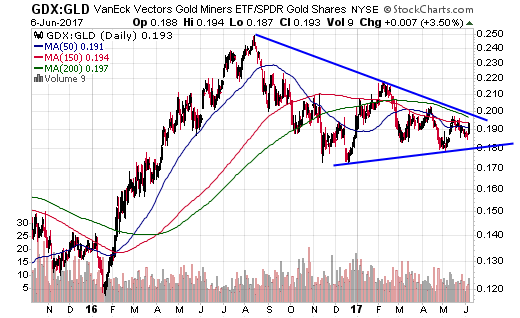 This ratio has NOT broken out YET, but it looks to me like it is getting ready to do so.
I cannot predict though whether it will happen today or next week or the week after, but what I can tell you is that this is the most important indicator to watch, because when it turns up the next big bull run will begin.
The problem is that there are so many defeated gold bulls that few will believe it when it happens!
And I expect to hear people find reasons to doubt what is in front of them!
I just posted two new things on the website.
First is a podcast I did on The Ochelli Effect last night about the Saturday conference I did in the DC area about The National Security State.
I gave a talk that was filmed by C-SPAN and should be broadcast within the next few weeks.
Listen to this podcast here about this event:
http://wallstreetwindow.com/node/13395
I also did a video last night answering the question of whether it is best to buy ETF's or individual stocks when it comes to mining stocks.
Obviously you MUST stay away from the toxic JNUG and DUST ETF's.
But what about GDX and GDXJ?
My answer is here:
http://wallstreetwindow.com/node/13392
-Mike
Grab This Free Report: My Top Options Trading Setup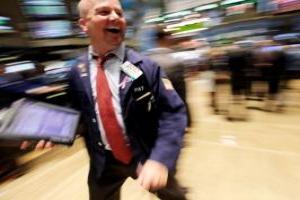 This free special WSW report is devoted to my top options trading setup. I do this one simple trade at least once a month.
Grab it and get along with it our future stock market action updates. Do not think about buying any other stocks or options before you read this report. To get this report click here