Warfare State at War with Trump as he Plans Warfare Against Iran - The Real News (05/24/2017)
By

wsw staff

on Wed, 05/24/2017 - 06:33
Norman Solomon joins Paul Jay on Reality Asserts Itself discussing the Trump/Russia affair and plans to isolate and perhaps attack Iran. Video produced by www.therealnews.com.
Grab This Free Report: Our Top Mining Stock Pick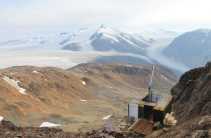 This free special WSW report is devoted to IDM Mining and why it is currently our top mining stock pick.
Grab it and get our next gold price entry point. Do not think about buying any other gold stocks before you read this report. To get this report click here