Black Swans And Interventionistas...With Special Guest Nassim Nicholas Taleb - Ron Paul Institute (05/20/2017)
By

wsw staff

on Sat, 05/20/2017 - 09:53
Neocons and the pro-war mainstream media have nothing to lose when the wars they promote go terribly wrong. This is unique in history. After the predictable disaster, they return to their air conditioned Washington and New York offices while millions suffer and die. That is why why they are able to continue. In the words of today's Liberty Report guest Nassim Nicholas Taleb, they have no "skin in the game." The famous author of The Black Swan also lets us in on his thinking about the current state of the US economy and the actions of the Federal Reserve. Tune in to this very special Liberty Report:
---
Copyright © 2017 by RonPaul Institute. Originally published here.
Grab This Free Report: Our Top Mining Stock Pick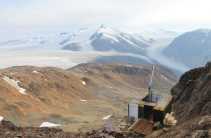 This free special WSW report is devoted to IDM Mining and why it is currently our top mining stock pick.
Grab it and get our next gold price entry point. Do not think about buying any other gold stocks before you read this report. To get this report click here