The Coming Trump/Comey Showdown: The Ochelli Effect - Mike Swanson (05/17/2017)
By

Mike Swanson

on Wed, 05/17/2017 - 07:06
Tuesday night I was live on the Ochelli Effect on AFR at 8:00 PM EST. After I talked JP Sotille of newsvandal.com talked about the powers behind Donald Trump and understanding his conflicts with the American establishment - and what it is that Trump is probably really trying to cover up.
To listen to this as an MP3 download click here.
Breaking news stories today:
CNN talks about possibility of impeachment.....
Comey Memo Says Trump Asked Him to End Flynn Investigation - NY Times:
r. Comey had been in the Oval Office that day with other senior national security officials for a terrorism threat briefing. When the meeting ended, Mr. Trump told those present — including Mr. Pence and Attorney General Jeff Sessions — to leave the room except for Mr. Comey.

Alone in the Oval Office, Mr. Trump began the discussion by condemning leaks to the news media, saying that Mr. Comey should consider putting reporters in prison for publishing classified information, according to one of Mr. Comey's associates.

Mr. Trump then turned the discussion to Mr. Flynn.

After writing up a memo that outlined the meeting, Mr. Comey shared it with senior F.B.I. officials. Mr. Comey and his aides perceived Mr. Trump's comments as an effort to influence the investigation, but they decided that they would try to keep the conversation secret — even from the F.B.I. agents working on the Russia investigation — so the details of the conversation would not affect the investigation.
At a Besieged White House, Tempers Flare and Confusion Swirls - NY Times:
On Capitol Hill, there were signs that Republicans, who mostly held the line after Mr. Comey's ouster, were growing alarmed by and impatient with Mr. Trump's White House operation.

"There need to be serious changes at the White House, immediately," said Senator Patrick J. Toomey, a Pennsylvania Republican who wants Mr. Trump to appoint a Democrat to head the F.B.I. The Senate majority leader, Mitch McConnell of Kentucky, called on Mr. Trump to operate with "less drama" on Tuesday.

In his comments to reporters on Monday, Senator Bob Corker, a Tennessee Republican close to some in the White House, was explicit about the situation.

"Obviously they're in a downward spiral right now," he said, "and they've got to figure out a way to come to grips with all that's happening."

....

There is a growing sense that Mr. Trump seems unwilling or unable to do the things necessary to keep himself out of trouble, and that the presidency has done little to tame a shoot-from-the-hip-into-his-own-foot style that characterized his campaign.

There is a fear among some of Mr. Trump's senior advisers about leaving him alone in meetings with foreign leaders out of concern he might speak out of turn. General McMaster, in particular, has tried to insert caveats or gentle corrections into conversations when he believes the president is straying off topic or onto boggy diplomatic ground.

This has, at times, chafed the president, according to two officials with knowledge of the situation. Mr. Trump, who still openly laments having to dismiss his first national security adviser, Michael T. Flynn, has groused that General McMaster talks too much in meetings, and the president has referred to him as "a pain," according to one of the officials.
Is Trump dysfunctional or devilishly clever???
Is it a deep state plot?
Trump's Fans Shrug Off Oval Office Leak - Politico.com
Reports that Donald Trump divulged highly sensitive information to Russian officials—confirmed Monday by multiple news outlets and only glancingly denied by the White House—have left his most hard-core supporters deeply troubled.

They're concerned not so much about the president's ability to protect state secrets as they are with the depravity of the "deep state" and the lying mainstream media.

.....

"If Trump really made a mistake and accidentally leaked information, why would people run to the media to tell the world, including our partners?" Cernovich asked.
Who would leak?????
Deep State Leaks Highly Classified Info to Washington Post to Smear President Trump - Brietbart.com - absolutely nothing new in this story, just a headline........
MSNBC glee today....
White House rocked by allegation Trump tried to shut down FBI's Flynn probe - Politico.com
A friend of Comey's confirmed the existence of the memo to POLITICO.

"It's very rich in detail and hopefully it will come out soon," said the person, who spoke on condition of anonymity. "There are other memos about his meetings too. He wrote down every word Trump said to him as soon as he could."
Trump's intelligence gaffe creates tension with Israel - Politico
Grab This Free Report: My Top Options Trading Setup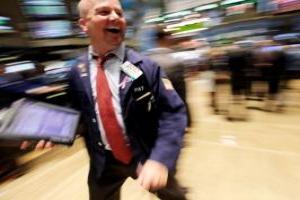 This free special WSW report is devoted to my top options trading setup. I do this one simple trade at least once a month.
Grab it and get along with it our future stock market action updates. Do not think about buying any other stocks or options before you read this report. To get this report click here