The Second Donald Trump Administration - Mike Swanson (04/19/2017)
By

Mike Swanson

on Wed, 04/19/2017 - 05:37
On Tuesday night I did this interview on the Ochelli Effect. Following my segment JP Sotille of www.newsvadal.com talked too.
You can download this as an MP3 file by clicking here.
Interview originally released at www.ochelli.com.
Notes I made for the show:
Obama....2008....
Two weeks ago Donald Trump launched a missile strike on Syria and met with China's Priemer Xi. He then did a huge interview with the WSJ last Wednesday in which he repudiated much of his campaign promises - including tariffs, praised Janet Yellen, and said a strong dollar is bad!
MSM themes before Syria strike:
Trump as looming dictator - russian agent, hopes for impeachment and electoral college...
But today MSNBC I saw in the morning praise him and his rising advisors!
Will talk about foreign policy next time...mainly domestic today, but first can't help myself....
WE talked about China so I can't help but read this from LA TIMES:
Mr. Trump said he told his Chinese counterpart he believed Beijing could easily take care of the North Korea threat. Mr. Xi then explained the history of China and Korea, Mr. Trump said.
"After listening for 10 minutes, I realized it's not so easy," Mr. Trump recounted. "I felt pretty strongly that they had a tremendous power over North Korea," he said. "But it's not what you would think."
Chinese Foreign Ministry spokesman Lu Kang said that at the Mar-a-Lago summit, both presidents had agreed to keep in closer touch through phone calls and meetings....
NY TIMES : Trump Says China Will Get Better Trade Deal if It Solves 'North Korean Problem'
So, you know we [Trump and Chinese President Xi Jinping] have a very open dialogue on North Korea. We have a very good relationship, we have great chemistry together. We like each other, I like him a lot. I think his wife is terrific. And you know, it's very rare that he comes and stays with somebody and spends that much time.
Chinese media show Trump as a student - front page:
Image from this great blog post:
At Home and Abroad, Chinese Leaders Lead The Discussion And Show The Way
What does Trump know?
During campaign Flynn chief advisor....
First administration - economic nationalism/Bannon/Gorka -> themes - "radical Islamic terrorism," "trade wars," "enemy of the people" and "Obama spying"....
Key event immigration ruling with Stephen Miller help.
Bannon strategic initiatives groups creates worry at JCS.
Gorka now looking for a new job.
Today Bannon locked in a closet.
One reason Bannon failed - How can they do it I kept asking myself? Where are the people? like 1/2 or 1/3 of Trump voters...
Bannon rally 12+ people at it led by Richard Spencer...but Stranahan tried too....
Alex Jones flaying at the wind of "globalism" while Pentagon takes over and Goldman Sachs rises....
Bannonites - key turning point was health care bill....Trump has no use for them anymore....that is what this Brietbart former spokesman Kurt Bardella believes:
Key figures are Gary Cohn and Dina Powell....
Cohn COO of Goldman for over 10 years...
Articles:
Politico: Trump turns to CEOs amid White House turmoil
Jared Kushner, the president's son-in-law, is trying to orchestrate more power for New York business types, particularly National Economic Council Director Gary Cohn, while diminishing the power of chief strategist Steve Bannon, who drives the populist wing of the White House.

...
"The president is a business person, so he's very comfortable being around business people and he learns best by talking to people and observing things," Schwarzman said in an interview after meeting on Tuesday with Trump and other business leaders. "I think he looks forward to these things and he likes being with business people who have run businesses that are bigger than his. It's just a highly supportive environment, whether it's Gary Cohn or Jared, certainly Steve Mnuchin and Wilbur Ross and Dina Powell, these are all people who've had very similar experiences."

....

Still, corporate executives who have attended White House meetings say they are becoming increasingly confident that Cohn, along with Kushner and senior White House adviser Dina Powell, also a former Goldman executive, have for the moment at least neutralized Trump's more aggressively nationalistic advisers including Bannon and senior aide Stephen Miller. Cohn has become Trump's preferred adviser as of late, several people say, as Bannon has faded.
Key thing is Miller has shifted away from Bannon and now works more for Kushner...
Roger Stone told MSNBC Bannon isolated...
In eyes of Stranahan Ivanka is "disloyal" to Trump:
Disloyal: Ivanka Trump Partied with Trump-Haters Prior to Inauguration"
Multiple news sources reported that in January, shortly before Donald Trump was inaugurated as President, Ivanka Trump had a "secret dinner party" that was organized by her advisor Dina Powell. The guest list seems to not include a single person who supported her father during the election. Instead the list included people who didn't merely support her father's opponent Hillary Clinton during the election, but who actively and publicly insulted, demeaned, criticized and attacked her father both before and after his election.
3 weeks ago crazy idea of Ivanka/Powell working for Obama as sleeper agents through Valerie Jarret..
Reality she is trying to help! And preserve the brand!
World of partisan politics and reality of power politics...
Dina Powell:
Before being promoted to Deputy National Security Advisor, Powell served in the Trump administration as an Assistant to the President and Senior Counselor for Economic Initiatives. Powell worked at Goldman Sachs from 2007 through 2016 and was president of the Goldman Sachs Foundation - 100's of millions of assets!
Some of the Foundation's initiatives involve supporting and developing entrepreneurs around the world, including 10,000 Women and 10,000 Small Businesses. 10,000 Women provides women entrepreneurs in developing countries with business education, access to capital and mentors. Under Powell, Goldman Sachs partnered with International Finance Corporation and Overseas Private Investment Corporation to raise 600 million dollars, to provide access to capital for more than 100,000 women worldwide.
Ivanka Trump theme of helping women succeed!
Powell previously served in the George W. Bush administration as Assistant Secretary of State for Educational and Cultural Affairs, Deputy Undersecretary of State for Public Affairs and Public Diplomacy, and an Assistant to the President for Presidential Personnel.
She had a staff of 35 reporting to her and, especially once the second term of the Bush presidency began in January 2005, was part of hiring some 4,000 people.
Today deputy national security advisor...
They are back...like Obama in 2009...
Bannon didn't have the ability to hire 4,000 people....
Grab This Free Report: My Top Options Trading Setup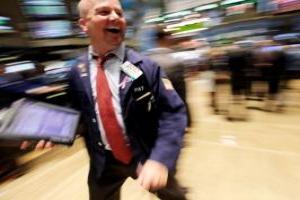 This free special WSW report is devoted to my top options trading setup. I do this one simple trade at least once a month.
Grab it and get along with it our future stock market action updates. Do not think about buying any other stocks or options before you read this report. To get this report click here