Trump Budget Director Says Trump Promise to Cut National Debt Was "Hypberole" (04/13/2017)
By

wsw staff

on Thu, 04/13/2017 - 07:58
"It's fairly safe to assume that was hyperbole," Mulvaney said. "I'm not going to be able to pay off $20 trillion worth of debt in four years. I'd be being dishonest with you if I said that I could."
"The reason the president doesn't want to change some of the mandatory spending, is because the public's not ready for it yet," he said. "They're ready for economic growth."
Grab This Free Report: Our Top Mining Stock Pick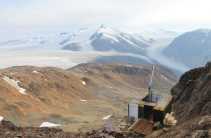 This free special WSW report is devoted to IDM Mining and why it is currently our top mining stock pick.
Grab it and get our next gold price entry point. Do not think about buying any other gold stocks before you read this report. To get this report click here