Trump's Tariff Tough Talk Meets Reality in China - Mike Swanson (04/13/2017)
By

wsw staff

on Thu, 04/13/2017 - 07:30
On Tuesday I was on the Ochelli Effect show talking about Trump and China.
After my segment JP Sotille of newsvandal.com talked about how the JCS and Pentagon have now taken control of Trump's foreign policy.
It was a huge event.
China is the second biggest economy in the world and implacts the financial markets.
You can download the MP3 for this interview here.
So much has happened in the past week that there are many things we could talk about such as Bannon demotion from the national security council and his now waning influence with even Bannon cronies like Gurka reportedly looking for a place to land outside of the White House. Deputy National Security advisor McFarland is being given the plumb appointment as ambassador to Taiwan or Signapore as she leaves the door.
And of course there are the Trump missile strikes in Syria.
This is what we see on our TV! But outside US people in Russia see it another way and people in China saw a totally different TV show than we did. Trump plays for TV, but so does Xi!
We may get to these things, but I thought I'd start the conversation by talking about something that is easy to ignore with all of the other news items hitting us and that is Trump meeting with Chinese Premier Xi this weekend.
Bannon has said that war with China is inevitable and Trump labeled China as a mean rival during his election campaign saying that he was willing to go to tariff war against them.
He said China was engaging in "rape" against the US and was our "economic enemy."
But something happened.
But once elected according to Politico:
Bad tweet from Trump came day after this first meeting....
The U.S.-China Business Council has urged the Trump administration to conclude talks on a bilateral investment treaty that would also dismantle many of China's barriers to foreign businesses.

Xi, for his part, seems to have learned something about dealing with the dealmaker in the White House after Chinese State Councilor Yang Jiechi came on too strong in a meeting with the new president, key advisers and members of his family after the election.

"It turned out that wasn't very effective," said Bonnie Glaser, a senior adviser at the Center for Strategic and International Studies. "And the Chinese rethought their approach and decided that a charm offensive, and working, particularly, directly through the family members, would be more effective."

That paid off when Trump's daughter, Ivanka, and granddaughter, Arabella, made a surprise appearance at the annual Spring Festival at the Chinese Embassy in Washington.

In addition, Ivanka's husband and senior White House official Jared Kushner has established a regular dialogue with Chinese Ambassador Cui Tiankai as part of his broad responsibility as a top adviser to his father-in-law, analysts said.
Kushner took control of China talks and China realized they needed to play to family.
What China wanted from talks was a very simple show. They were concerned Trump might embarass Xi with a stunt. They wanted to show the meetings on their TV's to reassure Chinese that Xi is a great leader and the Communisty Party that he is indespensible.
Trump family helped Xi before the meeting.
So when Xi came to the US to meet with Trump negotiations before hand on how the meeting would go were done in back channels led by Kushner and Chinese simply made demands for how the tone of the meeting would be and how it would appear...
Descibed in WSJ April 4 before summit:
Many veterans of negotiating with China, inside and outside the U.S. government, said Mr. Trump's administration has lost leverage by backtracking on its own positions, as well as on longstanding tenets of U.S. policy, without extracting significant concessions from Beijing.

....

China's foreign-policy establishment quickly met to brainstorm a fresh approach, according to people who took part. They studied copies of Mr. Trump's book "The Art of the Deal." Several Chinese think tanks were commissioned to file reports on Mr. Trump's personality.

Opinion was divided. One group saw Mr. Trump as a deal maker less interested in maintaining U.S. alliances in Asia and who could work with Beijing. Others regarded him as a serious threat to China's economy and security.

The consensus emerged that Mr. Trump cared most about trade and U.S. jobs—areas where Beijing could offer compromise—and that he could be persuaded to maintain the status quo with Taiwan.

....

Chinese government advisers saw a possible path to Mr. Trump through his family. Leading the way was Mr. Cui, whose easy manner contrasted sharply with Mr. Yang's.

"Personal diplomacy matters," said a person who has dealt with both men. "And in this White House, personal relationships are especially important."

...

"Trump's son-in-law is key," said Wu Xinbo, director of the Center for American Studies at Fudan University in Shanghai. "First, he's our ambassador's main point of contact with Trump. Second, he's the main figure for passing ideas and suggestions on China policy."

On Feb. 1, Mr. Cui persuaded Ivanka Trump, Mr. Kushner's wife and the president's elder daughter, to attend a Lunar New Year party at Beijing's embassy in Washington.
Ivanka began by going to the Chinese embassy on Chinese New Years:
Ivanka posted this on Instragram on the right and it went viral for millions in China:
To watch the video from instagram picture go here.
She then posted this video:
Chinese media used these videos to build up Ivanka and her daughter and created a mania around them.... They call Ivanka the queen in Chinese media. Trump family in effeect helped Chinese leaders creapte propaganda for their people. And China was able to show this Trump family deferring to Xi on their TV sets:
What did Trump get from the meeting?
From LA times:
And while Trump ran on anti-globalist threats aimed at China, he relied on Secretary of State Rex Tillerson — the former chief executive of Exxon Mobil Corp., one of the world's largest energy conglomerates — to take a key role at his overnight summit in Florida with Chinese President Xi Jinping.

Trump has long boasted of his fierce negotiating skills and how they would help him as president. While no mishaps marred his talks with Xi, he also made no apparent breakthroughs on trade or North Korea, the White House priorities.

"So far I have gotten nothing," Trump joked to reporters at one point. "Absolutely nothing."
What Trump got was a promise by chinese to study trade over the next 100 days and get back to him....
What they got in return was a propaganda boom for Xi....
This is Trump's powerful "negotiating."
Problem is US has no real leverage...
NK problem....
China is there we are here.... SK not playing ball right now on missile shield...
No cards to play.... just theater...move a ship...stiffen "sanctions" when there is already an embargo.
China has to only sit there...
So Bannon dreams and tough talk of trade wars go to dust....
Advisors who don't deliver results fade away...
The show MUST deliver poll ratings!
Reality TV star Trump helped Xi with his TV show, hopefully Xi will help Trump with his one day....
A blast from the past:
""You can win against China if you're smart. But our people don't have a clue. We give state dinners to the heads of China. I say 'Why are you doing state dinners for them? They're ripping us left and right. Just take them to McDonald's and go back to the negotiating table.' It's true!" - The Best Insults of Donald Trump
Grab This Free Report: My Top Options Trading Setup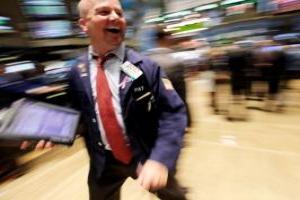 This free special WSW report is devoted to my top options trading setup. I do this one simple trade at least once a month.
Grab it and get along with it our future stock market action updates. Do not think about buying any other stocks or options before you read this report. To get this report click here