Yes I Have A Buy on Gold and Gold Mining Stocks Now - Mike Swanson (03/21/2017)
By

Mike Swanson

on Tue, 03/21/2017 - 08:46
I now have a buy on gold stocks.
As you know I am a firm believer in using stage analysis that shows that gold, silver, and the mining stocks began a new bull market last year.
When a new big bull market starts typically you get massive gains in the space of just a few months and then a long drawn out consolidation phase that can last up to 12 months.
Well gold stocks more than doubled last year and then peaked in the summer to fall almost 50% by December.
They are volatile, but the big swings mean big gains when you are aligned with them.
The trick is to be able to get in WHEN THEY START instead of chase AFTER they have gone up already.
But now we got a good entry point.
The miners stabilized in December and have consolidated in a simple triangle formation that goes back to the summer.
Take a look at this chart: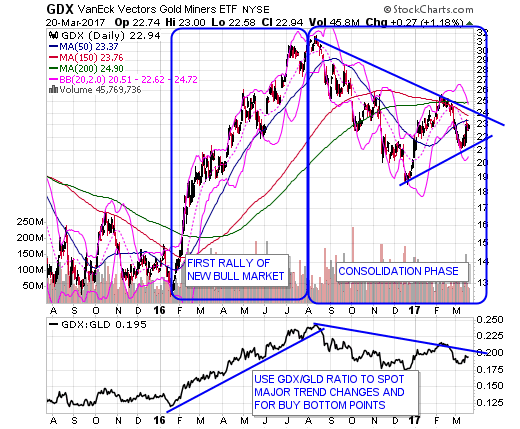 Gold popped up last Wednesday following the FOMC decision and has been pausing in a very narrow range ever since along with the GDX gold stock ETF (which I have a position in).
A close above $23.50 on the GDX is the key gold stocks resistance point to watch now.
Once that resistance level is broken I expect we'll see the GDX quickly move up to test the upper triangle resistance trendline, but I don't think it will take much to break it.
Once that happens the train will leave the station.
And so I believe the time to buy IS NOW.
And I want to help you get involved in gold and the mining stocks.
So I'm opening up my Total Gold Trading Program for you today:
http://www.wallstreetwindow.com/beta/goldstocks.htm
I know right now no one is talking about gold!
The fact of the matter is the masses tend to CHASE and CNBC really talks about something AFTER is goes up a lot.
When gold gets above $1,300 people start to get excited about it.
But when it dips below $1,200 they panic in fear even though that is strong support.
We are closer to $1,200 than $1,300 now and so there is no interest among the masses.
And yet this is a good entry point, because anyone can buy and just put a fairly close stop loss on the recent lows!
It's like the stock market back in 2010.
Back then there were more sellers than buyers in the US stock market among individual investors.
And now that the DOW is above 20,000 there is literal mania among people buying stock market ETF's.
In my view gold and mining stocks are like buying the stock market in 2009 or 2010.
The trick though in buying them is to have a real strategy and plan so you aren't simply CHASING prices higher.
You don't just buy without knowing when you are going to sell.
Here is how to do it:
Grab This Free Report: My Top Options Trading Setup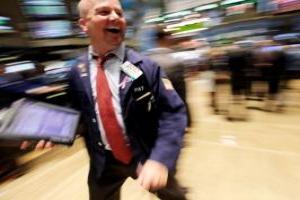 This free special WSW report is devoted to my top options trading setup. I do this one simple trade at least once a month.
Grab it and get along with it our future stock market action updates. Do not think about buying any other stocks or options before you read this report. To get this report click here