Are Gold Stocks Lining Up For a Great Entry Point? - Mike Swanson (03/17/2017)
By

Mike Swanson

on Fri, 03/17/2017 - 08:53
I actually have not been doing much trading in the markets this month and did a LOT of selling at the end of last month.
If you can remember I did a LOT of buying in the days following the Trump election.
For the past few weeks I have not seen any good trading setups much less investment entry points in the markets.
But that might be about to change in regards to the gold chart price.
I am now watching the action of gold and gold stocks very closely.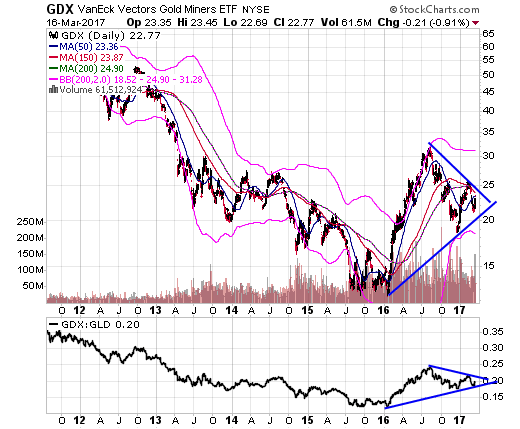 You can see that the GDX gold stock ETF (which I do have a core position in) has formed a lengthy triangle formation on the above technical analysis chart.
So has the much more important GDX/GLD ratio, because that ratio tends to lead the action in both gold and gold stocks.
If gold stocks do not fade their entire Wednesday pop and hold their gains for the next few days they will be in a position to breakout.
That would likely trigger a rally up to at least their summer highs of last year.
When it comes to gold the reality is that people get scared when it goes below $1,200 an ounce and dump in panic.
They get excited when it gets to $1,300 an ounce and chase buying.
People tend to chase and so they don't make good entry points.
Really that is the biggest mistake stock market players make.
But if things line up here in the next few days a true safe entry point will be had, because it will be closer to support.
Buying gold stocks when gold is closer to $1,200 is safer than buying when gold is above $1,300.
It means you are near support and have better reward potential!
So I'm watching today's action closely and will be watching the next few days too.
More to come.
If this is the first time you have come to this website then get on my free action update list by clicking here.
Grab This Free Report: My Top Options Trading Setup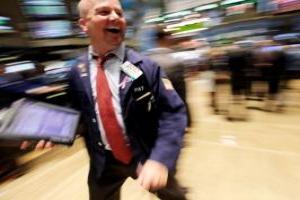 This free special WSW report is devoted to my top options trading setup. I do this one simple trade at least once a month.
Grab it and get along with it our future stock market action updates. Do not think about buying any other stocks or options before you read this report. To get this report click here