Oil Markets Have A Huge Problem Now (Impact on Gold and Stocks) - Mike Swanson (03/09/2017)
By

Mike Swanson

on Thu, 03/09/2017 - 09:38
I know right now everyone is bullish on the stock market.
Last week's Investors Intelligence report showed that over 61% of people are now bullish on the stock market, which is the highest it has ever been in decades.
At the same time, the market has not had any pullback at all with there not even having been a drop of 1% in a day for the S&P 500 for over 5 months.
However, oil stocks are actually down year to date and there is a big RED warning sign flashing in the oil futures market, which suggests a big drop is coming.
Take a look at this technical analysis chart and the two arrows I have put on it.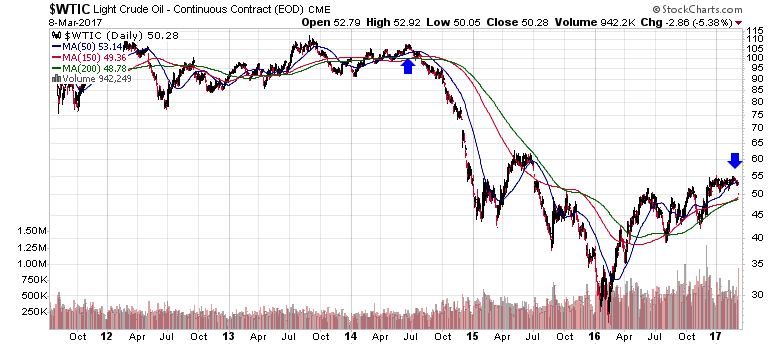 The first arrow is pointing to the week ending on June 24, 2014.
On that week the oil commercials future traders built up a peak record short position of 492,580 contracts.
Commercials futures traders include large giant producers and even operators that dominate the oil markets such as Saudi Arabia.
And they tend to be correct at key market turning points.
So oil crashed in the Fall of 2014 and continued lower in a giant bear market that crushed energy stock investors.
Commercials closed out a lot of their short contracts on the way down.
Last February though oil bottomed at the same time the stock market did and rallied back up.
But on February 21, 2017, something big happened.
The oil commercial futures traders built up a new record short position of 571,785 contracts surpassing the record they hit in 2014.
The oil price stalled out and at the moment is trading below $50.00 a barrel.
I cannot predict what it will do today or tomorrow or in the next few days, but this oil commercial short position is a giant red flag that tells us that the intermediate-term trend is now down.
People are talking about a coming economic boom, but oil is telling a different story.
Oil seasonally goes up every year into June and July.
Something is wrong when it does not do that.
There are times when oil and commodities dump ahead of a critical stock market top or stock market drop.
It is time to be cautious on the financial markets.
I personally did a lot of selling the other week.
Now I went long big time in the days that followed the Trump election, but I sold almost everything I bought on the "Trump trade."
It's over in my view.
You may disagree, but oil is telling us to watch out!
I see no reason to own energy stocks right now.
I see lots of reasons to be patient in the markets.
If this is the first time you have come to this website then get on my free email action list by clicking here.
Grab This Free Report: My Top Options Trading Setup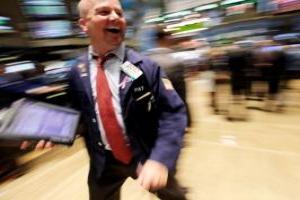 This free special WSW report is devoted to my top options trading setup. I do this one simple trade at least once a month.
Grab it and get along with it our future stock market action updates. Do not think about buying any other stocks or options before you read this report. To get this report click here