I Am Starting to Get Concerned About Donald Trump - Mike Swanson (02/16/2017)
By

Mike Swanson

on Thu, 02/16/2017 - 09:34
I just posted on the website two interviews I did this week.
One was with the Jim Goddard investing show:
http://wallstreetwindow.com/node/13193
Going into election day I was actually short stocks, meaning I was betting against the stock market.
The day after the election though as Trump won I got out of those short positions and began to go long.
Right now I am still long stocks.
Right after Trump won I wrote a report for private Power Investors in which I said I thought that the new President would be good for the stock market and expected him to enact tax cuts and a giant spending program that would grow the economy.
I recommended ETF's that I expected to become Trump favored sectors.
And the stock market has of course gone up and up without any real pullback at all since election day.
In fact over 85 trading days now there has not even been a single day in which the S&P 500 has fallen more than 1%
It's like a manic run of confidence in Trump in the stock market.
Look at the chart.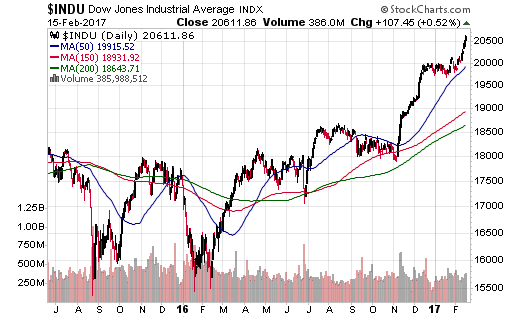 Since Trump won there have been claims made by people on the left that he wants to become a dictator and there have been manic demonstrations in the street.
There is a segment of the population very scared by Trump, but in the end what we are really seeing is political instability in DC.
Whatever you think of Trump everyone can agree with that.
My job though is to figure out what Trump means for the markets and how we can benefit from the markets.
Trump and Congress needs to pass Trump programs and begin to fulfill his campaign promises so he can start to win and displace his political opponents.
There is an editorial in the WSJ today in reaction to the Flynn resignation titled Is This Trump's Watergate?
It also has the subtitle that sums it up: Unless Team Trump gets back to the basics of the 2016 election, 1974 could return.
Now I do not think Trump is going to be impeached or even that General Michael Flynn did anything illegal.
The FBI in fact said they are not going to prosecute him and there is not a single story anywhere that proves that he broke the law.
The TV is yelling Russia! Russia!
But what really happened is that Flynn suffered not from leaks outside of the Trump administration, but inside of it too!
Flynn turned out to be totally incompetent and made some extremely reckless statements and proposals.
In December CIA goons were leaking against Trump to the WAPO, but this weekend it was people everywhere leaking to dozens of media outlets attacking General Flynn.
All signs are that the Secretary of Defense General James Mattis or his people were among the many leaking against Flynn.
I did an interview with the Ochelli Effect news show explaining why Flynn had to be taken out and why we can actually sleep better at night with him gone:
http://wallstreetwindow.com/node/13192
Today the news is that Trump has asked Robert Harwood who was a former Navy Seal who served as a deputy to Mattis on two tours to become his National Security Advisor.
So what is happening is a Mattis take-over of Trump's WH national security team.
What does this have to do with the markets?
Well Trump put in a total incompetent to be his National Security Advisor that had to be replaced and now is likely himself to become a rubber stamp yes-man for Mattis and the Pentagon.
It makes me wonder if he has a firm grip on the rest of the policies coming from the White House, including his economic policies.
There was another story in the NY TIMES this weekend that made me wonder.
Read these quotes from it:
A few weeks after the election, Gary Cohn, the president of Goldman Sachs, was summoned to Trump Tower for a discussion about the economy. It would be the first of many such meetings with President-elect Donald J. Trump.

During that sit-down, on Nov. 29, Mr. Cohn briefed Mr. Trump on what he regarded as the chief hurdle to expanding the economy, according to people who were briefed on the discussion: a stronger dollar, which would undermine efforts to create jobs.

Mr. Cohn also argued that the bold infrastructure projects that Mr. Trump envisioned would need private-industry partners, those people said, in order to avoid weighing down the government with costs.

That got Mr. Trump's attention.

The president-elect turned to the other people in the room — his son-in-law, Jared Kushner; his chief strategist, Stephen K. Bannon; his chief of staff, Reince Priebus; and Steven T. Mnuchin, his campaign's chief fund-raiser and Mr. Trump's nominee to be Treasury secretary — surprised that his infrastructure ideas had such a potential downside.

"Is this true?" Mr. Trump asked the group, according to those people. Heads nodded.

"Why did I have to wait to have this guy tell me?" he demanded.
When I read that I thought to myself, "how can Trump not know that? Is he this clueless?"
It makes me worry that he is not going to get his spending programs passed and if he doesn't do that then the entire Trump rally will end up collapsing in time.
But there is still time.
There is plenty of time.
I am not saying the rally is ending today.
Trump has a couple months to get things done and to come out a winner.
But I am not going to simply sit here and think oh I am going to believe in Trump blindly and just assume by faith he will make everything great and there is no need to think anymore.
We will have to monitor the markets, events, and the news very closely to see what is happening - and I'm not talking about the Democrat attacks and left fears - but monitor to see what is really going on inside the Trump administration itself.
Don't get caught up in the partisan talking points coming out of both sides.
Just as investors should not blindly follow Trump or believe in him with a religious faith no one should blindly dismiss him (they were wrong to do that last year) or get irrational about things either.
Check out the interview I did with the Ochelli Effect show on some of the things Flynn did and has said that were such a total mess:
Grab This Free Report: My Top Options Trading Setup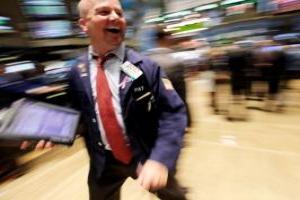 This free special WSW report is devoted to my top options trading setup. I do this one simple trade at least once a month.
Grab it and get along with it our future stock market action updates. Do not think about buying any other stocks or options before you read this report. To get this report click here