US Stock Market Not Nervous About Trump - Mike Swanson (02/16/2017)
By

Mike Swanson

on Thu, 02/16/2017 - 06:27
Despite political instability in DC the US stock market has no volatility right now. But gold stocks are rising and gold is going to become necessary for people to own when US bonds go down.
If this is the first time you have come to this website then get on my free action update list by clicking here.
Grab This Free Report: Our Top Mining Stock Pick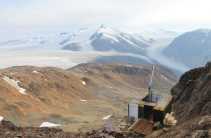 This free special WSW report is devoted to IDM Mining and why it is currently our top mining stock pick.
Grab it and get our next gold price entry point. Do not think about buying any other gold stocks before you read this report. To get this report click here