Why The DOW 20,000 Really Is The Dow 10,000 Again - Mike Swanson (12/21/2016)
By

Mike Swanson

on Wed, 12/21/2016 - 11:21
As I write this the DOW is barely below 20,000. Even though it is fractionally down this morning it seems destined to break this level sooner rather than later.
A lot of people are making comparisons on CNBC to when the DOW smashed through 10,000 in the Spring of 1999, because a few months later it went up to 11,750.
I remember 1999 very well, because that is the year I really got big in trading and actually is the year I started my own online business.
There was a spirit of economic optimism that came with the 1999 stock market rally that went away after the 2000 internet peak and never really returned again until today.
Of course we had the internet stock bubble bust of 2000, but we also saw 9/11 in 2001 and the banking crash of 2008 and the Iraq war in between.
Now around those events we did see a temporary boom in real estate prices, but that was just a small mania in a part of the US economy that was just a backdrop to a spirit of overall malaise.
There was nothing like the optimism and spirit of 1999 and it wasn't just stocks.
There were people in 1999 I knew that were not trading in stocks, but were excited about the economy because they were seeing the stock market go up.
They saw it as a big event that was a sign of the times.
It was the dawn of the internet and new opportunities and they were coming out of college ready to be a part of it.
I started my financial website in 1999 and it started as just a couple of pages with an opt-in form with a hundred people following it.
Now I get over 2,000 visitors to it on a typical day and often more.
I also got involved in a chain of body shops about eight years ago as an investor, helping to get things started, that now employee well over 100 people.
I know people in the local business community where I live and I can tell you that right now there is a spirit of optimism I have not seen since 1999 and I do not think it is going to go away anytime soon no matter what the stock market does.
For one thing many business people have felt weighed down by Obamacare and higher taxes and see this weight coming off of them with Donald Trump's election.
Most small businesses have a difficulty surviving when labor costs go up 30%. In the body shop world small body shops owners have been closing their doors and selling their business and giving up over the years as a result.
Even though that's just a small niche in the economy. Multiply that everywhere and you can see why we have seen jobs growth over the past eight years coming from primarily part-time work.
But now optimism is driving the DOW up to 20,000 and you can see it in a recent Gallup release of its U.S. economic index, which just hit a new high.
So yes the election of Donald Trump is creating optimism that is starting to help the economy.
I posted an interview with hedge fund titan Ray Dalio today in which he explains how Trump is going to benefit some stock sectors while some are actually going to fade out to the surprise of those in them:
Hedge Fund Titan Ray Dalio Issues Report on Donald Trump's Impact on the Stock Market/Economy
Last week I was eating lunch with someone who is on the board of a local bank in my town.
I believe that bankers know what is going on in a local economy, because when they lend out money to businesses they can monitor their bank accounts to see the money flow in and out so they know if the loans are going to work or not.
This guy didn't give me secret information, but I concluded after our lunch that there is a small niche sector in just about every town and city in America that should see its earnings DOUBLE in the next 16 months.
Stock traders are fascinated with buying FB and AMZN, but the earnings for neither of them are going to DOUBLE in 16 months.
I think these stocks are and so I bought them and did a full report on this niche sector for my Power Investor members.
The point is that this is just one example of the type of things happening.
This doesn't mean that the stock market is going to go straight up without pulling back at some point next year, but it does mean that money is flowing faster in the real economy now.
Wheels are starting to spin.
And you want to get ahead of that to go where the dollars are going to go.
That is how I think DOW 20,000 is like DOW 10,000. It isn't the technical analysis price breakout of this level that is important to think about, but the new opportunities of our times.
In 1999 I saw that there were new ways to start a business online and took advantage of them just as I took advantage of how the internet provided access to stock market information and enabled anyone to trade and compete in the financial markets like never before.
Today we take the latter all for granted.
DOW 20,000 is a reminder that it shouldn't be taken granted, but should be taken advantage of.
Tomorrow I'm going to send you information on how I got started in business if you are interested in creating your own online business and internet income stream.
If this is the first time that you have come to this website then get our top Donald Trump stock idea and get on our action update list by clicking here
Grab This Free Report: My Top Options Trading Setup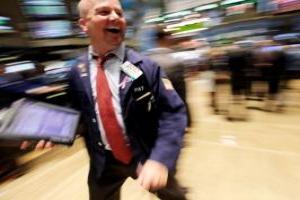 This free special WSW report is devoted to my top options trading setup. I do this one simple trade at least once a month.
Grab it and get along with it our future stock market action updates. Do not think about buying any other stocks or options before you read this report. To get this report click here