Is A Battle Brewing Between Donald Trump and Janet Yellen? - Mike Swanson (12/19/2016)
By

Mike Swanson

on Mon, 12/19/2016 - 09:30
Janet Yellen suggested last week that she did not think that big fiscal stimulus is needed at her post-FOMC rate hike decision press conference.
This is causing some people to speculate that a big battle may be brewing between Yellen and President-elect Donald Trump.
Trump wants to cut taxes and increase spending to stimulate the economy.
The Fed said that it wants to raise taxes at its meeting last week.
Is there a conflict?
Down the road there may be one, but there really isn't any now when it comes to monetary policy.
Trump and his people want the Fed to raise rates next year and Yellen is really pledging to do it at a fairly slow pace.
You have to remember that rates are coming from zero levels!
The Wall Street Journal did a story on this issue last week.
Here are some quotes:
For at least the next year or two, the interests of Mr. Trump and Fed Chairwoman Janet Yellen are closely aligned. He wants low unemployment and faster economic growth, and she's happy to err on the side of both via the most docile course of interest-rate increases on record, so long as inflation stays low.

Historically, tensions arose between presidents and Fed chairmen as the former wanted low unemployment at any cost, and the latter prioritized low inflation. Today is different. Inflation has persistently been below the Fed's 2% target, and the Fed believes structural changes in the economy mean it can't tolerate a federal-funds rate—what banks charge each other for overnight loans—much above 3%. These two factors are a powerful incentive for Mrs. Yellen to err on the side of easy monetary policy.

....

Many of his advisers fret that central banks' stimulative policies, from bond buying to zero or negative interest rates, have done more harm than good. "If we woke up tomorrow and every central bank in the world raised interest rates by 300 basis points, the world would be a better place," Goldman Sachs executive Gary Cohn, soon to become director of Mr. Trump's National Economic Council, said this year.

But those objections may make little practical difference for the next few years since the Fed is moving away from zero anyway.
Full story here.
One thing this means is that there really is going to be no giant conflict between Trump and Yellen, because both essentially want the Fed to slowly raise rates over the next year or two. Janet Yellen will be gone by the end of that time period anyway.
It also means that as a market impacting news item the Fed is not likely to have much impact on the financial markets for the next few months.
Now the gold price chart took a dip after the Fed decision last week, but the reaction in the overall stock market to the Fed decision was fairly muted.
If this is the first time you have come to this website then you need to get on my action update list by clicking here.
Grab This Free Report: My Top Options Trading Setup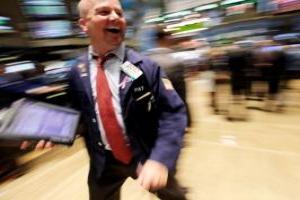 This free special WSW report is devoted to my top options trading setup. I do this one simple trade at least once a month.
Grab it and get along with it our future stock market action updates. Do not think about buying any other stocks or options before you read this report. To get this report click here