This Chart Shows The Biggest Trend in the Markets Now - Mike Swanson (12/13/2016)
By

Mike Swanson

on Tue, 12/13/2016 - 09:14
Yesterday I did a special video session with Matt Morris about his Fed Minutes System.
We both are looking for some moves to take place around the Fed meeting in eyeing trading possibilities, especially in the gold price chart. To watch this video go here:
http://wallstreetwindow.com/node/13048
Now there are two things I want to point out for you today. First of all as you know there has been an obvious out performance of the DOW in regards to the Nasdaq and the big cap Nasdaq 100 index since the Trump election victory.
I have seen people on CNBC claim that this is just temporary and that people should keep on buying and trading the tech stocks like Facebook and Amazon and ignore this.
I think trend analysis show that they are dead wrong.
Look at this chart, which is the DIA / QQQ relative strength ratio, because it shows you clearly that this is a major trend change in the markets.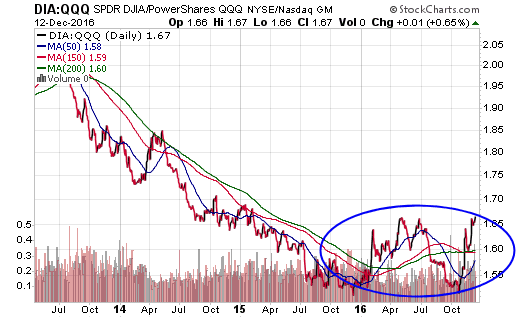 Relative strength investing strategies dictate that you want to have your money flowing where the money is going.
Yes for the past several years the big cap tech stocks did better than the DOW and that is why this ratio was in a decline.
But this pattern began to change this January as this ratio put in a bottom, rallied hard, and then came down to make a double bottom this Fall.
This is a classic long-term double bottom reverse head and shoulders pattern and the DIA/QQQ relative strength ratio is on the verge of breaking out of this bottoming formation.
This means it is going to simply accelerate once it does!
So look for the types of stocks in the DOW to continue to outperform big cap tech for the months to come.
CNBC "Fast Money" types that don't adjust to this will be left behind, but those that do are in for a fun ride!
Of course it is the banking, transportation, and energy stocks that are making this happen.
Now secondly there is a lot of worry out there that the Fed is not only going to raise rates tomorrow, but is going to talk up the possibility of four rate hikes next year, because of Donald Trump and the stock market rally.
However today's Wall Street Journal has an article in it quoting Fed officials that are putting a damper on this fear.
That could be a reason why the stock market is poised to gap up a little bit today.
But they are saying that they pretty much have to wait until Donald Trump's programs are passed before they start to get more aggressive about things.
One Fed guy even says that they have done so much work keeping rates low that they need to be sure before they get more aggressive.
The article is here:
http://www.wsj.com/articles/buoyant-markets-pose-new-challenge-for-the-f...
So some people are positioned thinking otherwise and if the Fed surprises they will be right.
Whatever the Fed does it sets the stage for some moves and gold stocks in particular are in a position to move, because as I talked with Matt the volatility in it has shrunk like crazy on the 20-day Bollinger Bands.
If this is the first time you have come to this website then get on my action update list by clicking here.
Grab This Free Report: My Top Options Trading Setup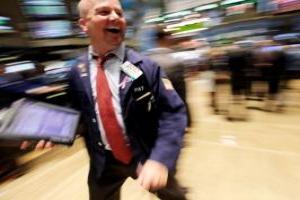 This free special WSW report is devoted to my top options trading setup. I do this one simple trade at least once a month.
Grab it and get along with it our future stock market action updates. Do not think about buying any other stocks or options before you read this report. To get this report click here