Here Are Your Trade Targets for Year End Rallies - Mike Swanson (12/01/2016)
By

Mike Swanson

on Thu, 12/01/2016 - 09:01
We have seen big moves in the markets since the Trump election. And Dave Skarica laid out what is going on and where the money is now going in a video presentation for you here:
Dave Skarica - Profit from Stock Market HyperNormalisation with These Trades
I want to show you today one stock pick I made in my own private premium trading group on November 20, 2016: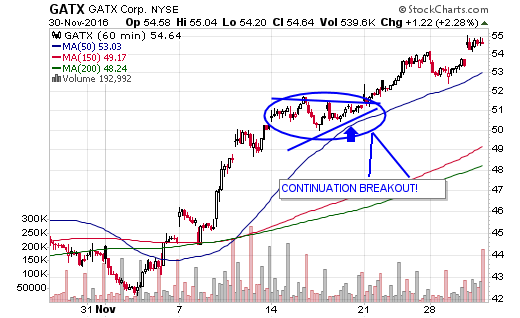 Ok this is GATX.
You can see on this 60-minute chart that it has been going up at a 45 degree angle since the Trump election.
However it paused for almost a week and that enabled me to spot a consolidation entry for traders on November 20.
The stock then broke out of resistance and has gone up roughly 10% since then and I believe is just going to go higher for the rest of the year.
Now what is important though for you to know is the lesson you cannot see by just looking at this technical analysis chart.
That is that this stock is for a rail transportation company and transportation stocks are one of the red hot Trump sectors totally on fire now.
You may have noticed that the FANG stocks - Facebook, Amazon, Netflix, and Google have done nothing since the election.
While banks stocks, infrastructure stocks, and transportation stocks are soaring most Nasdaq 100 stocks are acting like driftwood.
Money is shifting out of tech and into new winners in a massive money rotation.
Small caps are also seeing big surges.
This is what is happening and you make money by acting on that.
And yesterday oil went up big with the OPEC deal, which caused many small cap oil stocks to break out of long bases on big volume.
I do not really believe oil is starting a massive new bull market, but all it has to do is get some positive news and positive sentiment to push up the right small cap energy stocks for big gains over a couple of months much like we saw happen with gold stocks this year.
Dave has two oil stocks that he has as top picks in his trading service.
I talked to him on the phone yesterday and he even bought more of one of them.
These are the type of plays that are going to be the winners going into the end of the year.
And the best way for you to get on board is to get into Dave premium trading service.
I got him to agree to a final special offer for 2016 you to get in at a nice low entry price savings rate.
It ends tonight so get in now by going here:
Grab This Free Report: My Top Options Trading Setup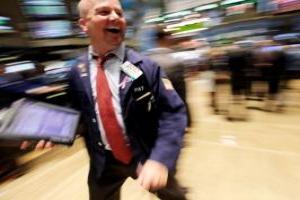 This free special WSW report is devoted to my top options trading setup. I do this one simple trade at least once a month.
Grab it and get along with it our future stock market action updates. Do not think about buying any other stocks or options before you read this report. To get this report click here