Donald Trump and the Obama Factor (11/14/2016)
By

wsw staff

on Mon, 11/14/2016 - 07:35
Will President elect Trump's best help come from Obama?
The least predictable source of influence on Mr. Trump remains Mr. Obama. For all their differences, and the bitter words they flung at each other during the campaign, the two share traits. Both won the presidency as outsiders, and both hold their party's foreign-policy establishment in contempt."

"With Mr. Trump lacking elective-office experience or the political coterie that accompanies establishment candidates to Washington, administration officials said Mr. Obama would probably spend more time with him than was typical for other incoming and outgoing presidents."

"And Mr. Trump, some outsiders predicted, would respect the advice of a president 15 years younger, whose path to the White House was nearly as improbable as his.
Full story here.
Grab This Free Report: Our Top Mining Stock Pick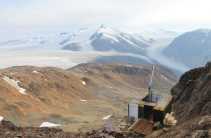 This free special WSW report is devoted to IDM Mining and why it is currently our top mining stock pick.
Grab it and get our next gold price entry point. Do not think about buying any other gold stocks before you read this report. To get this report click here