What Big Fad Stock Is Going to Blow Up Next? - Mike Swanson (10/27/2016)
By

Mike Swanson

on Thu, 10/27/2016 - 09:05
Yesterday CNBC fad stock CMG blew up. Which one will be next?
I did a special live stock market mastermind session with David Skarica. You can watch the recording right here:
http://wallstreetwindow.com/node/12949
I asked him do stock market bulls have anymore buying power left?
This morning at least they do, but what about tomorrow?
More importantly we talked about what the stock market likely is do after the election.
What will happen if Clinton were to win?
And what about Trump?
And what about the gold stocks now?
What sectors look good and what fad stocks are in trouble?
This is a comprehensive talk for you to listen to:
http://wallstreetwindow.com/node/12949
I also got Dave to agree to a special offer to get you into his premium trading service for a smaller monthly fee than his big annual fee. The offer ends tonight so go here to grab it:
http://wallstreetwindow.com/daveoffer2016.htm
Yesterday CMG blew up.
It was pumped endlessly last year by CNBC "Fast Money" traders and by Jim Cramer as he made it a top pick.
Then it crashed in a poison food scandal.
People have been trying to guess a bottom in it all year by buying off of the 390 technical analysis support area.
Back in June before the BREXIT Cramer told people on his TV program to buy the stock.
He then told people on twitter he thought it was the bottom in it as you can see here.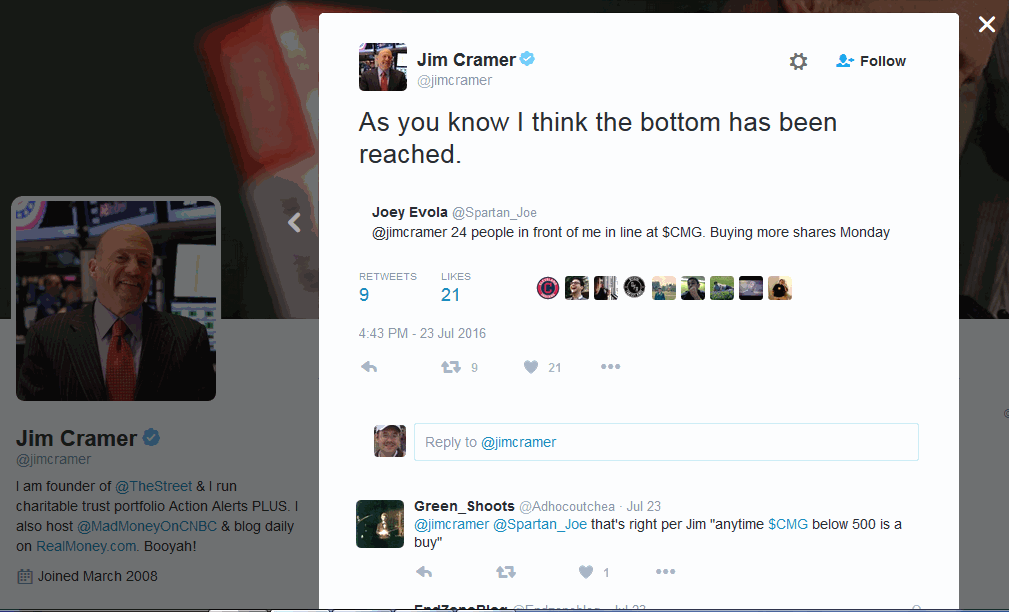 Well yesterday the stock crashed on the biggest one day trading volume it has seen ever.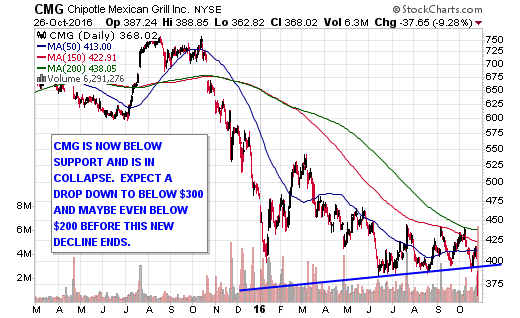 This is a stock that now simply looks like it is doomed.
It has closed below support on huge volume.
I have no idea where it's next support level is going to be at now and neither does anyone else so not buy it!
There is a lesson in this stock and that is you do not want to buy and hold stocks that trading weaker than the stock market averages are doing, because those tend to be stocks that end up crashing or falling harder than the rest of the stock market does on simple stock market pull backs.
I don't care if you hear people on CNBC call bottoms in such stocks, because they must be avoided.
CMG insiders dumped a huge much of their own personal holdings in the past six months while CNBC talking heads were calling bottoms in it over and over ago.
The CEO Steve Ellis alone sold over $55 million worth of his own shares before the stock crash yesterday.
He is laughing all of the way to the bank while CNBC viewers who bought serve as bagholders for him.
But they do not care - most of them are just insane gamblers that watch these shows and will move on to the next crazy play until they lose all of the rest of their money.
I'm not interested in crazy gamblers.
I talk to people with a steady head in the markets.
That's why I talked with Dave Skarica. He talked about what is he doing now to line up trades in what is currently dead listless action in the stock market averages themselves. To listen to our discussion go here:
http://wallstreetwindow.com/node/12949
If this is the first time you have come to this website then get on my free email list for action ideas by clicking here.
Grab This Free Report: My Top Options Trading Setup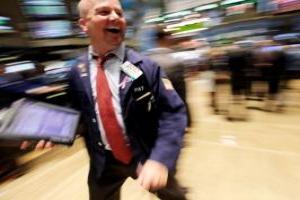 This free special WSW report is devoted to my top options trading setup. I do this one simple trade at least once a month.
Grab it and get along with it our future stock market action updates. Do not think about buying any other stocks or options before you read this report. To get this report click here