The Computer That Monitors Seven Percent of Global Assets - Mike Swanson (10/25/2016)
By

Mike Swanson

on Tue, 10/25/2016 - 09:02
I'm going to tell you something I did not know until last week.
There is a computer in Washington state that acts as a trading robot monitoring 7% of the world's financial assets.
No it's not called Socrates, it's called Aladdin and it's operated by Blackrock.
Here is a picture of it.
Blackrock is the world's largest financial firm with brokers and investment advisors all over the world.
It also lists and manages scores of exchange traded funds that trade on the stock exchanges.
The company has over $4 trillion assets under management and uses the Aladdin computer to gauge risk.
Blackrock is the biggest shareholder in half of the world's thirty largest companies.
I found out about this when I watched the new Adam Curtis movie last week. I did a post about it here:
Hypernormalisation: The Movie That Explains the Madness of Our Times and Rise of the Banking Power
I found a story in the Economist that explains the computer like this:
But "Aladdin", the risk-management platform that occupies all those computers in the orchards, is not just used to look after BlackRock's $4 trillion. The firm makes its facilities available in whole or in part to managers looking after $11 trillion more, a tally that has recently been growing by about $1 trillion a year. All told, Aladdin keeps its eyes on almost 7% of the world's $225 trillion of financial assets. This is unprecedented—and it means flaws in the system could matter to more than just BlackRock, its investors and its customers. If that much money is being managed by people who all think with the same tools, it may be managed by people all predisposed to the same mistakes.
It is all just an example of how computers and robots have come to dominate the financial markets.
That doesn't mean the individual cannot thrive in the markets, but he must adapt to this situation and figure out where he can have an advantage.
Many are going into ETF's to try to fight the computers at their own game on their own terms.
I own ETF's and use them myself, but there are some ETF's that are totally toxic and actually work against you when you hold them for more than just a few days.
JNUG and NUGT are two such ETF's.
I explained why they are so toxic last week in this post:
Why Triple ETF's Like JNUG And NUGT Are So Toxic - Mike Swanson (10/21/2016)
Amazon is running a special kindle price discount on my two main books check it out:
The War State: The Cold War Origins Of The Military-Industrial Complex And The Power Elite, 1945-1963
Strategic Stock Trading: Master Personal Finance Using Wallstreetwindow Stock Investing Strategies With Stock Market Technical Analysis
If you are new to this website then you need to get on my free update list for actionable ideas. To do that click here.
Grab This Free Report: My Top Options Trading Setup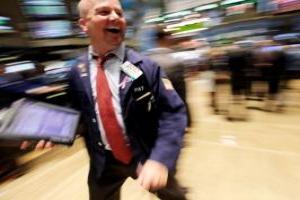 This free special WSW report is devoted to my top options trading setup. I do this one simple trade at least once a month.
Grab it and get along with it our future stock market action updates. Do not think about buying any other stocks or options before you read this report. To get this report click here