Warren Buffett Has Raised up Record Cash Reserves as the Stock Market Falters - Mike Swanson (10/13/2016)
By

Mike Swanson

on Thu, 10/13/2016 - 13:55
It's time to talk about Warren Buffett and what he is REALLY doing in the markets now as the S&P 500 sits on the edge of its 2120 support level today.
This year many of the most successful and largest investors have either gone short the stock market or hedged themselves.
Last fall Carl Ichan did that.
Paul Tudor Jones did it.
And this year George Soros made a giant options trade that effectively protected him from any coming stock market drops.
But what about Warren Buffett?
Well, Buffett is the most famous investor in the United States and is beloved by millions of stock market bulls, because they believe he thinks that you should just be fully invested in the market and that it will go up forever for you and make you rich.
Buffett also gives many interviews on CNBC and always leaves the viewer with the impression that he is bullish on the markets whenever he is on.
For instance in February Warren Buffett told CNBC that he was buying stocks.
I have never seen Buffett get on CNBC and say he is selling.
During the bear market of 2007 and 2008 he told people on CNBC to buy over and over again.
Every time I have seen Buffett on CNBC he has encouraged people to hold their stocks and typically just makes very general and bland cheerleading statements no matter what is happening that encourages people to think they need to be fully invested.
In reality right now Warren Buffett is sitting on what are RECORD cash reserves for him.
The associated press reports that Warren Buffett has $73 billion in cash reserves now at Bershire Hathaway, because he has not made any big investments since January and his companies generate $1.5 billion in cash every month.
If he thought stocks were a good buy right now then he would be using this money to buy stocks, but he is not doing that.
He is sitting and waiting.
Now it is difficult for Buffett to do much selling, because his company is basically a giant conglomerate that owns companies outright or has giant positions in a stock when it takes one.
He does not trade stocks and jump in and out.
He really cannot do that like a regular person can anymore even if he likes to pretend like he is just like you or me.
He is not.
But he has created a massive crash reserve - most likely because just like Carl Ichan and George Soros do he knows that the stock market is incredibly overvalued from a valuation standpoint.
It also has done nothing for like three years now and today it hit a key support level this morning at 2120 on the S&P 500. I expect it to break it soon and when it does it will just drop again like it did last month.
In this environment CASH RESERVES are key for people to have.
But it is always more instructive to see what Buffett is actually doing with his money instead of just listen to his generality CNBC sound bytes.
Perhaps he knows that CNBC wants bullish talk all of the time so he says what they want to hear.
A few weeks ago at the very day of the last market peak the Fast Money show had a man on who said he was cautious on the market and warned that the Fed was making a bubble and people had to be careful.
Their response was to launch a totally disgraceful attack on him as CNBC's Fast Money Show sunk to new lows.
Or maybe Buffett just believes that the CNBC audience isn't sophisticated enough to ever take any money off the table.
The only way you make money is by buying stocks when they drop.
That Buffett advocates.
And the only way you can do that is if you have CASH RESERVES when stocks are risky, expensive, and become dangerous from the standpoint of technical analysis.
I'm going to do an interview with Ike Iossif tomorrow morning about the stock market and gold.
I've talked with him several times this year and the last time I talked with him he was looking for a pullback in both stocks and in gold to occur this Fall.
So I'm going to be curious to see what he is thinking now.
I should have that interview up on the site by 1:00 PM EST Friday.
-Mike
Grab This Free Report: My Top Options Trading Setup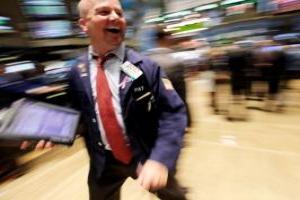 This free special WSW report is devoted to my top options trading setup. I do this one simple trade at least once a month.
Grab it and get along with it our future stock market action updates. Do not think about buying any other stocks or options before you read this report. To get this report click here