Thursday's ECB Meeting Could Be a Stock Market Pivot Point - Mike Swanson (09/07/2016)
By

Mike Swanson

on Wed, 09/07/2016 - 09:21
I'm not expecting the stock market to do much today, but tomorrow could finally be the key pivot point day everyone is anticipating.
Yesterday we saw a big move in gold and gold mining stocks as the GDX ETF went up 4.86%.
The gold stocks are having a nice rebound from their drop the other week.
Meanwhile the US stock market went up a fraction and that has provoked many people to email me with predictions for a massive rally.
The reason why is because I have been just about the only voice out there telling people to take some money off the table and build some cash reserves.
This makes many people angry.
But in the end I think you need to have money on hand to be able to buy on dips and the only way to do that is to have cash.
Most people get fully invested at stock market tops and chase rallies and then end up selling when things drop.
So instead of buying on dips they sell on them.
I want people who follow my work to do the opposite!
And what is more the stock market is in danger of having a big dump if it breaks through its recent support levels.
The up day though yesterday though provoked emails from many.
The volume has yet to come into the stock market even though Labor Day has passed.
Some are saying that the Federal Reserve is buying stocks or that the ECB is buying stocks when they are not any such a thing and there is no proof that they are.
However, the ECB is key right now in the mind of many stock market bulls, because they want some sort of central bank action to happen to make the stock market go up for them.
More on that in a second.
First look at this chart.
In reality the stock market has not been doing much on any given day for weeks now and everyone no matter what their opinion is drawing a lot of inference from very small short-term moves.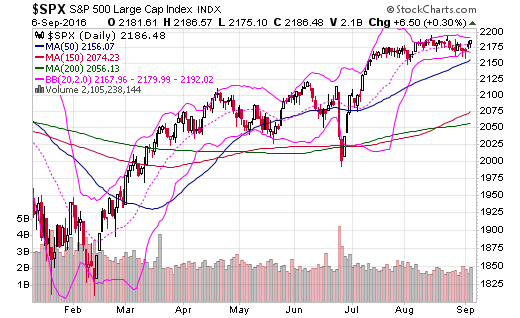 I've been pointing out the 20-day Bollinger Bands and how tight they are in these emails for the past few weeks.
They signal that a big move is going to happen as it comes out of this range it has been in.
They do not say what direction it will be in.
But you must prepare for it either way.
I have both long and short positions in my account and have added short positions lately.
If the S&P 500 breaks out I will likely reduce them.
If you are fully invested and refuse to take any money off the table now then you should at least plan to do so if the stock market breaks down.
Watch the S&P 500 2160 level, because a close below that will tell you that the market is beginning a new decline.
Yesterday got people excited because they saw a lot of the fad FANG stocks make big moves.
For instance FB broke out.
Most people as a result are simply totally asleep on the markets. It is only those most engaged who are paying attention anymore.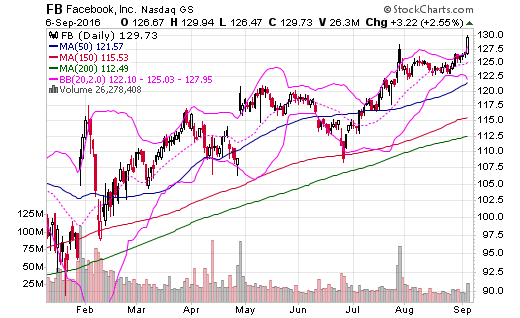 TSLA, NFLX, BAIDU, and AMZN were also among the top gainers yesterday while the S&P 500 and DOW barely did anything.
These big cap fad stocks though heavily weight the Nasdaq 100 and helped push it up.
In reality 47 stocks in the Nasdaq 100 were down so there was no big broad based buying, which will need to come in if the stock market is going to have a real rally and stop trading like a dead money penny stock.
What is more when it comes to the S&P 500 228 of the stocks were down.
Here is one of them.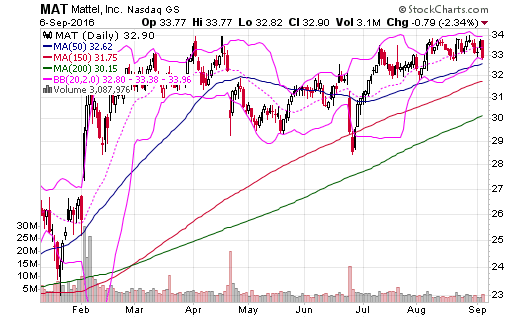 A lot of stocks are hanging on support even with the up day yesterday.
Now tomorrow is likely to be a key day, because the ECB is meeting and there is a lot of talk all over the internet that they need to do something to create a big stock market rally.
There is even an article in the WSJ this morning with the title Could the ECB Start Buying Stocks?
The author of the article knows they are not tomorrow, but hopes that they will someday.
Here is the straight dope.
The ECB announced a big QE bond buying program in March that it started at its June 8 meeting.
The market actually sold that news as you can see from the German DAX: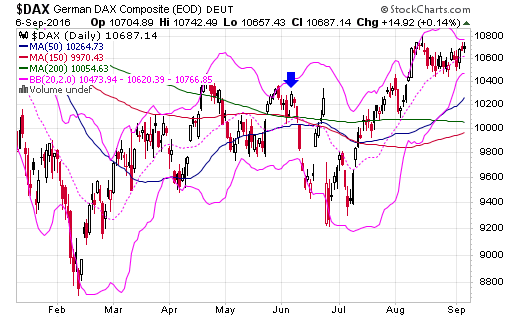 After that announcement the S&P 500 also dipped for about a week with many weak stocks and sectors getting smashed.
The ECB's QE bond buying program expires early next year and there is talk that they will extend the program till September 2017.
That is likely to happen at some point before the year is over.
However, there is a desperate desire among many that they will INCREASE the program.
One thing that has happened is that the ECB is buying so many government bonds that they have run out of government bonds to buy!
So now in order to buy more securities they need to change their rules to allow them to buy lower grade and higher interest bonds.
This would be a controversial decision, because many on the ECB do not want to do this and the Germans in particular do not want it to happen.
They simply do not believe that it will do anything!
But stock market bubble bulls and talking heads in the European media are demanding it.
And so the markets in Europe have rallied in the past few days into tomorrow's ECB meeting in hopes that they will announce this.
But if they don't there is likely to be another turn back down just like there was after the June meeting.
When markets rally into central bank meetings they usually sell the news once the meetings happen.
The US stock market hit support again last week and held.
That generated a sloppy rally that continued into yesterday's close.
That rally must breakout the S&P 500 and the DOW to morph into a real rally that so many are calling for.
If it doesn't then you can expect to see the markets turn down to support and they probably will go through them this time.
So Thursday could be a key day to watch and pivot point.
Usually I don't watch CNBC or the TV news anymore, but tomorrow I will turn on Bloomberg to see what happens in the morning.
The ECB news comes out around 7:45 AM EST Thursday.
Now is the time to prepare. If you like breakout playing hold off for tomorrow and see what the market is doing late in the afternoon.
If you need to buy though you should be looking at strong sectors and asset classes - GOLD!
But if you want to be smart and trim some positions I did an article yesterday about what to look for to know if you have a potential dangerous dud stocks or not.
To read it just click here.
If you are new to this website then get on my free email list to get future updates by going here.
Grab This Free Report: My Top Options Trading Setup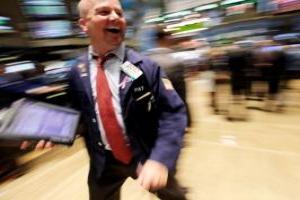 This free special WSW report is devoted to my top options trading setup. I do this one simple trade at least once a month.
Grab it and get along with it our future stock market action updates. Do not think about buying any other stocks or options before you read this report. To get this report click here