SIRI Stock is a Metaphor for the Entire Stock Market Right Now - Mike Swanson (08/12/2016)
By

Mike Swanson

on Fri, 08/12/2016 - 05:58
Today I am going to talk about a trade I took a loss in.
I know many people only want to hear about winners and few people want to hear about someone talking about a losing trade.
This is why you will never hear Cramer and Fast Money yelling people talk about trades that do not work out. If he did his audience of stock market bubble bulls would turn the channel off on him forever. They want nonstop hype and he delivers that for them.
Luckily people reading this are smarter than that.
In stock trading sometimes you will take a loss even if you are right later.
And there is something to learn from this trade.
This is SIRI of Sirius Radio and I took a short position on it sometime this spring when it was in the $3.80-$4.00 range.
Take a look at it, because a few weeks ago it broke out and when it went trhough $4.20.
If you don't know what shorting is I was betting AGAINST the stock and it went up instead of down, which is not what you want to happen when you bet against a stock.
The funny thing is though I might try to bet against it again before this month is over, because I believe this is a stock that will ultimately become a penny stock.
That decision depends though on what the stock market does.
You'll see why I think SIRI is a junk POS stock a minute.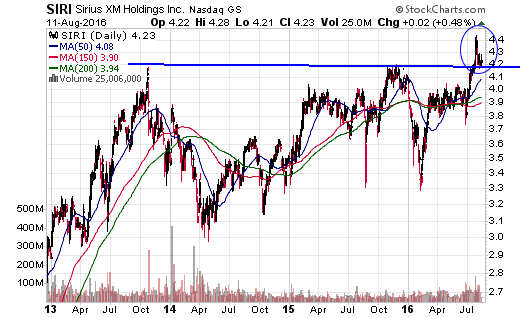 There are two things I want you to take from SIRI.
First of all the stock did breakout, but so far it has really done nothing ever since that move to a new high.
It took the stock three years to get above $4.15 for more than a few days.
So people who have been holding this stock have been waiting for this breakout for a very long-time.
And yet nothing has really happened to make it worth their wait.
The stock popped to $4.40 and is back down to $4.20. already.
It could be topping here.
 Or it could go sideways for a few weeks and then dump.
Whichever the case it is just dead money at this moment.
But the thing is when the breakout came there was no giant rally.
There was no sustainable move.
People who bought on that surge near the top are now bagholding.
The second thing you need to know about SIRI is that it is a stock that has seen MASSIVE debt fueled buybacks in the past few years.
Last year SIRI made $509 million in revenue and did $2 BILLION in share buybacks to keep the stock from dropping.
It did similar crazy buybacks in 2014 and 2013 too.
You can see the cash flow financials for SIRI here:
http://finance.yahoo.com/quote/SIRI/financials?p=SIRI
SIRI also has a Price to Sales ratio over 4 and is trading with a P/E of 35 and forward P/E of 23.
The debt growth though is simply unsustainable and when it comes to an end the prop that is holding SIRI up will collapse and the stock will go down the drain.
People will be wondering on the way down even if the debts could bring the company into bankruptcy.
That's a process that could take a few years to play out on the way down, but it's a long-term disaster.
And that's why I say I believe I am right on the stock.
But even if the fundamentals don't make sense right now that does not matter with SIRI.
SIRI is in a lot of ETF's and is in the S&P 500 so trading robots are buying it.
But if the market starts to go down or SIRI goes below key technical levels, like the long-term moving averages, those trading robots can turn off.
I'm sure few SIRI shareholders know anything about its debt loads, because those that do would be crazy to invest in it.
This is a huge mess and there are hundreds of stocks like SIRI in the stock market now.
SIRI is a metaphor for the entire stock market.
Most people are either oblivious to problems in stocks like this when they own them or simply have convinced themselves that the Federal Reserve will not allow any of their stocks to fall if they run into problems. They are literally betting that the Federal Reserve will bail them out if needed even though unlike the bankers of 2008 they do not have the ability to call the Fed or their Congressmen and demand a bailout so it is doubtful anyone will be there to listen to them.
I am short a few bad stocks and talk about them in the Power Investor group.
It's closed now and will open to new people in September after Labor Day so I'm not trying to sell you on getting in it, by telling you about SIRI today.
I just want you to know what is happening with many well known stocks in the stock market.
Of course I believe money can be made betting against some of these junk stocks, but betting against stocks is scary for a lot of people and it is not easy.
The easy way to make money is to invest at the start of a big bull market.
And that means focusing on the precious metals and gold stocks.
Yes there will be pullbacks in gold stocks at times here and there, but we are simply in the first year of a new gold bull market.
Silver and gold are where the stock market was in 2009.
The market is barely moving and volatility has shrank to nothing, but that will change.
Grab This Free Report: My Top Options Trading Setup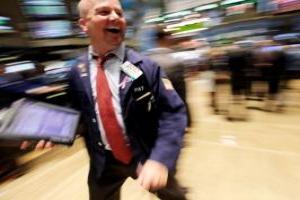 This free special WSW report is devoted to my top options trading setup. I do this one simple trade at least once a month.
Grab it and get along with it our future stock market action updates. Do not think about buying any other stocks or options before you read this report. To get this report click here