Bill Gross Warns on Bonds and Stocks Says Buy Gold - Mike Swanson (08/03/2016)
By

Mike Swanson

on Wed, 08/03/2016 - 09:12
Bill Gross advised that people should buy gold to protect themselves from dangerous bond action. He also warns on stocks.
And of course Bloomberg tries to dismiss what he says in this video, because most investors that watch do not want to hear anything negative about the stock market.
Instead they want reassurance and if they do not tell them what they want they will change the channel to CNBC where hype always reigns.
In reality it is time to reduce risks, diversify, bet against stocks, and if you want to make money then you need to buy gold stocks and for big returns with more risk buy junior mining stocks.
Maybe this should be a warning for people to instead of just throw up their hands and say "oh Bloomberg bubble girl tells me it can keep going" to instead do the study they need to do in order to be able to tell when it is ending!
The lazy bubble brain will be eliminated from the stock market in due time while the gold bug will thrive.
I can help you do that.
If you are not on my free email list then join to get my latest monthly PDF report by clicking here.
Grab This Free Report: My Top Options Trading Setup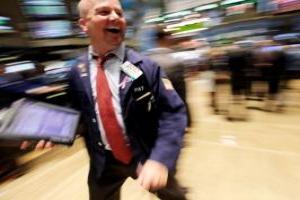 This free special WSW report is devoted to my top options trading setup. I do this one simple trade at least once a month.
Grab it and get along with it our future stock market action updates. Do not think about buying any other stocks or options before you read this report. To get this report click here