The Stock Market and Gold After Yesterday's FOMC Decision - Mike Swanson (03/17/2016)
By

Mike Swanson

on Thu, 03/17/2016 - 09:00
This is in an interview update I did with Jim Goddard yesterday before the Fed decision.
This interview gives a good overview of what I see in the financial markets.
While most people are spinning their wheels now in the US stock market there are real big bull markets starting outside of the US stock market in some select commodities.
In this interview I talked about one commodity ETF that I recommended to my private Power Investor group this Sunday and own myself.
It was up over 3.5% yesterday and is starting a new bull market.
It is not gold or oil, but is something that you probably use every single day.
I know I do.
Now yesterday the Fed released an edict on interest rates and Janet Yellen answered some softball questions at a press conference with hand picked reporters.
The Fed made no changes to interest rate policy, which was no surprise, but it did guide down on expected rate hikes, which was a big surprise.
In December the Fed said that the economy was returning to normal and that they would hike rates four times in 2016 as a result.
Instead the stock market tumbled in January and the Bank of Japan and ECB both announced new money printing programs.
So the Fed did nothing at its January meeting and yesterday said that it would not be able to hike rates four times this year.
Instead it might do it twice.
This created a big one day move in gold.
And gold stocks exploded.
The DOW went up 70 points and some people on CNBC were yelling for viewers to pile into stocks.
The problem is most people in the stock market are fully invested and have no money to buy stocks and the stock market is actually starting a bear market.
All we have had is a bear market rally.
When you look at the big picture this is clear.
I use stage analysis to analyze the market.
There are four stages to a financial market cycle in a stock or entire financial market. As you know you can have a bull market. Before a bull market starts though you usually have a stage one basing phase in which a market simply goes sideways and builds a base.
Then it breaks out and begins a full blown stage two bull market that typically lasts for several years. Then there is a stage three topping phase and then a stage four bear market.
There are various technical indicators you can use to determine when these stages are coming to an end so you can make the proper adjustments. That's a topic a little too big to get into now, but we can look at the basics right now. I can quickly show you one important indicator to watch to identify the trend the market is in.
That's the long-term 150-day moving average, which is simply a line plotted on a chart using the average price number of the past 150-days.
In a bull market this line slopes up on a chart and the price of the market tends to stay above it, so it acts as a nice price support level in a bull market to make for a good entry point timing mechanism.
In a bear market this line slopes down on a chart and the price of the market tends to stay below it and it acts as resistance.
So you can use this moving average to quickly identify the trend of a market. Then you can know if you should be bullish on a market or not.
Take a look at the S&P 500.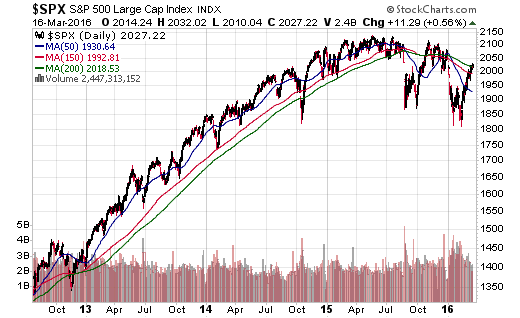 Look at the moving averages above and you can see how they went into a stage three top last year and are now starting a stage four bear market.
In January the S&P 500 broke down below the moving averages and in February started a rally back to them.
In bear markets these moving averages act as resistance.
This means there is very little upside potential to the US stock market now and the risks are now to the downside.
Now look at the HUI, which is the miners index for gold stocks.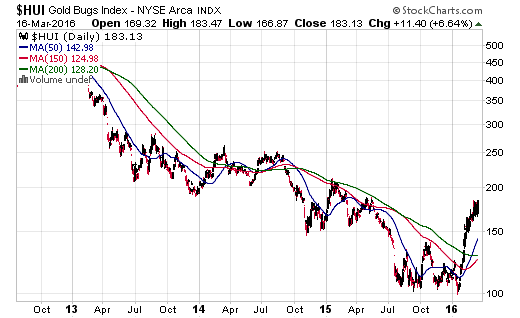 The HUI spent last year completing a stage one base and broke into a full blown stage two bull market in January.
Gold did the same thing.
Bull markets typically last 3-5 years.
That means that the gains in mining stocks and precious metals are only just beginning.
This means that most people right now fully invested in the US stock market would be best to sell some of their stock positions and move that money into gold and mining stocks.
In fact with the US stock market having rallied back to its 200-day moving average on this bounce NOW is the time to make changes.
Those fully invested in the US stock market who make no changes now are going to face the high risk of simply getting hit by more market drops and more losses.
They have no need to do this when there are now so many opportunities to make money doing something better than holding and hoping.
They must escape repeating this cycle: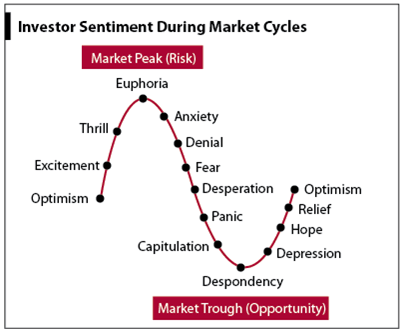 That is why I recommended a commodity ETF this Sunday to Power Investors.
It is also why this year I myself have implemented a hedge fund style balanced approach to the markets in which I am long and short the markets.
This means I own things that are going into new bull markets and bet against junk stocks.
This cuts my overall market risks down and positions myself for nice gains.
I also made it my mission to help people do the same thing by releasing my POS Stocks Program.
I also released a new report on five widely owned doomed stocks that you do not want to own now.
You can get a trial to my Power Investor group and get all of this by going here.
Grab This Free Report: My Top Options Trading Setup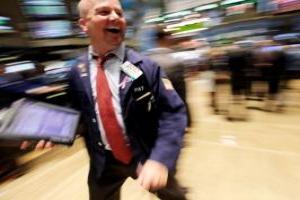 This free special WSW report is devoted to my top options trading setup. I do this one simple trade at least once a month.
Grab it and get along with it our future stock market action updates. Do not think about buying any other stocks or options before you read this report. To get this report click here