Scott Horton Show: Mark Horton On Negative Interest Rates and Fed Policy (03/08/2016)
By

wsw staff

on Tue, 03/08/2016 - 08:14
Mark Thornton, Senior Fellow at the Mises Institute, discusses how the Fed is responsible for economic booms and busts; the increase of economic inequality after the gold standard was abandoned in 1971; and the introduction of negative interest rates.
To listen click here.
Grab This Free Report: Our Top Mining Stock Pick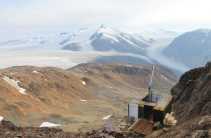 This free special WSW report is devoted to IDM Mining and why it is currently our top mining stock pick.
Grab it and get our next gold price entry point. Do not think about buying any other gold stocks before you read this report. To get this report click here