What Is Next For The Stock Market Now? - Mike Swanson (02/04/2016)
By

Mike Swanson

on Thu, 02/04/2016 - 08:55
The stock market is not acting as bulls need it to act for them to be correct. The bull argument is that the January dip was just a mild correction and nothing to worry about.
I did an interview with Jim Goddard the other day and talked about how the market would trade this month if bulls were right and what you need to do if they are wrong.
I also talked about why people looking for a real bottom turnaround in oil are a year too early, but on time when it comes to gold:
We have seen many corrections in the stock market in the past few years.
After all of them the stock market would snap back up fast in a matter of weeks.
We had a big up day last Friday so people were thinking it was going to happen again, but instead the stock market is just languishing.
For the bulls to be right the market needs to get above the 2,000 level on the S&P 500 within a few weeks.
But instead it is just languishing now between 1950 and 1880.
That is going to set it up to just float around support and then have a horrible collapse once it goes through it.
That is what gold did in 2013.
It is what the stock market itself did in 2008 in September when it formed a double bottom in January and March and then smashed through it in September.
Actually the Nasdaq did the same thing in the Fall of 2000.
And it is what we have seen oil stocks do over and over again since 2014.
This is how giant bear market drops start.
The stock market is in a churn and burn mode, which is likely to continue for a couple of more weeks.
So I do not think it is going to crash instantly.
But what is important for you to realize is that it is not acting the same way as it has done in the past few years and that means it is setting up to break its lows and collapse.
That means buying bottoms and playing rallies is a losers game.
The best way to play to win is to bet against individual POS stocks.
If you want to join me in doing that then go here.
Grab This Free Report: My Top Options Trading Setup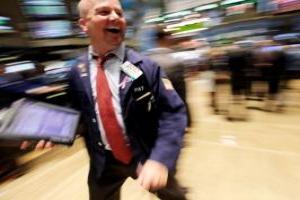 This free special WSW report is devoted to my top options trading setup. I do this one simple trade at least once a month.
Grab it and get along with it our future stock market action updates. Do not think about buying any other stocks or options before you read this report. To get this report click here