Stock Market Mastermind Session With David Skarica: Lessons From The Big Short and Past Bear Markets - Mike Swanson (01/29/2016)
By

Mike Swanson

on Fri, 01/29/2016 - 08:04
This recording was made after the close on Friday January 29. I looked at things over the weekend and think we can see the S&P 500 go up into the 1960-1980 zone. The market has managed to close above the S&P 500 1927 resistance area, which was a resistance level I mentioned as a target the other week.
But once the market goes through the January lows this year it will totally collapse.
Bubble bulls believe this was just a correction and the stock market is going to go up big time and not collapse.
Remember in August a lot of bubble bulls were predicting a Fall stock market breakout that would lead to a big rally. When that breakout did not come we had the August instant dump.
If bubble bulls are right than the S&P 500 will rally to close above 2,000 at the end of February.
If it fails to do that it will turn down and go into collapse.
Friday's big up day has them convinced of their fantasy rally and the small fry is totally mesmerized by Friday's big up day and is willing to ignore the losses he suffered last year and this year in hopes that bubble bull predictions will come true now. He also is willing to forgive insiders for dumping stock on him as he held on the way down.
There is no better example of the forgiveness of the small fry than Apple. Apple has been a dud stock and dumped once again last week after its earnings report. Insiders have sold off over 17% of their holdings since the July top, but small fry Apple bagholders do not care.
For the small fry owning a stock is like owning a lottery ticket and in the small fry mind to sell is to get rid of the lottery ticket. What makes the small fry stay a small fry is his failure to think big and and stop being a bagholder for insiders. He fails to trust his own judgement and adapt to changing market trends, because he feels he cannot go against bubble bulls on TV in suits telling him that stocks go up forever. I saw this happen to people in the last bear market and it is happening again.
But there are so any more ways to make money in the markets and that is what Dave and I try to show you.
Check this out:
David just released a new book titled Bear Market Rising: Profit from the Bursting of the Cheap Money Bubble this month!
I also released a new POS Stock Program for you to use to learn how to target POS stocks and to then bet against them with me. To get in go here.
Grab This Free Report: My Top Options Trading Setup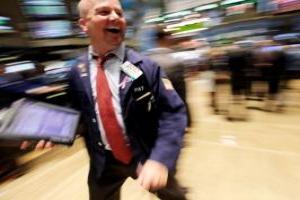 This free special WSW report is devoted to my top options trading setup. I do this one simple trade at least once a month.
Grab it and get along with it our future stock market action updates. Do not think about buying any other stocks or options before you read this report. To get this report click here