This News Is More Important than the Fed Decision Today - Mike Swanson (12/16/2015)
By

Mike Swanson

on Wed, 12/16/2015 - 08:12
This morning everyone is obsessed with what the Fed is going to do later today, but something more important has already happened this week.
There is no reason to wonder what will happen today, because everyone knows that the Fed is going to raise interest rates and then make some sort of statement to reassure people that they will do it very slowly and maybe only once or twice next year.
They will do this in order to encourage stock market bubble bulls into buying stocks in the coming days and weeks.
And no matter what the market does today they will succeed in getting enough people to buy stocks to create a bounce rally between now and the end of the year.
The reason why is that the market entered this week in an oversold condition and did find a footing to bounce off of Monday:
As you can see the daily stochastics began this week in oversold territory.
All most people do is look at the daily stock market action and price action in the market.
So yesterday morning there was a segment on CNBC by a Wall Street money manager who predicted a "rip your face off rally" to new all-time highs before the end of the year.
I looked on my twitter and Facebook feeds and I saw dozens of stock market bulls link to that video clip.
I even saw one stock market bull do an entire 15 minute video he put on twitter talking just about this prediction.
This was this analyst's 15 minutes of fame.
The thing is that this is now the type of thinking and analysis that is now dominating the stock market and financial media.
People want to believe that the stock market is going to breakout and go up forever and so whenever they hear a prediction by someone that this is going to happen they latch on to it.
And the only thing they do is watch the action in the market averages and look for more bullish predictions to confirm what they want to see happen.
The thing is this is what people have been DOING ALL YEAR.
And all year all we have seen is false rallies that lead to nowhere as the market has been making a giant topping formation.
And so the market is likely to simply bounce again and fade like it has done many times this year.
That will set it up for a big drop in 2016.
And by focusing only on market average action, hopes, and bullish predictions stock market bubble bulls ignore everything else that is happening.
Which includes deteriorating internals, crazy stock market valuations, and fading earnings.
In most days nothing really important happens in the stock market.
But yesterday something huge actually did happen that was totally ignored.
One of the DOW stocks collapsed.
MMM is has been a darling of Wall Street and people have piled into it, because it pays a dividend and every analyst has put a buy on it.
14 analysts cover MMM and they have price predictions of gains for it. One analyst says it is going to $184.
MMM has been engaging in a massive stock buyback program to make the stock go up.
Bubble bulls like that so they bought it and held it.
But they were totally oblivious to what MMM was doing to accomplish this feat.
It's quarterly earnings have been shrinking to the tune of 5% per quarter.
And MMM has been destroying it's own balance sheet in order to make the stock go up.
Take a look at it's cash flows:
It's cash flows have gone deep in the red in the past few years.
They have done this because much of their cash has gone into a stock buyback program while revenue has been flat to negative.
Now MMM has gone deep into debt to do this.
And yesterday it announced that it was downgrading its earnings outlook for 2016.
That means that MMM will have trouble going into more debt at the rate it has been doing in the past few years for more buybacks.
And that will put its buyback program in jeopardy in 2016.
And so the stock dumped yesterday and will become a drag on the DOW in 2016.
This is what happened to IBM and CAT and is going to happen to hundreds more stocks in the coming months.
On Monday I did a live video mastermind with David Skarica in which we talked in great detail about the problems with buybacks.
We even talked about a stock we are betting against right now that we think will dump like MMM.
It isn't believing in crazed predictions that makes people money in the stock market, but doing the work and research to understand what is happening and then taking advantage of it that does. The thing is bubble bulls do no work or research and that is why when something like the MMM news hits they end up getting crushed. But it was obvious something was wrong with its cash flow problems. And there are more stocks in trouble like this that will hit bubble bulls in the face in 2016.
This will have a bigger impact on the stock market in 2016 than today's Fed decision.
And we got examples for you.
To watch this session go here.
Grab This Free Report: My Top Options Trading Setup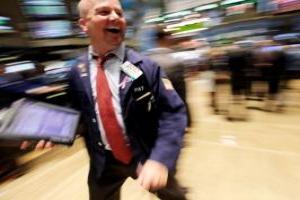 This free special WSW report is devoted to my top options trading setup. I do this one simple trade at least once a month.
Grab it and get along with it our future stock market action updates. Do not think about buying any other stocks or options before you read this report. To get this report click here