Ultimate Bubble Bull Jim Cramer Praises Yellen For Creating "Fabulus Position" For The Fed (12/03/2015)
By

wsw staff

on Thu, 12/03/2015 - 16:16
Today's leading bubble bull praises Fed action to try to make people feel better on a bad market day.
Cramer is perhaps the most important bull market bubble prophet of today. All bulls watch his show and buy when yells "buy buy buy!"
Grab This Free Report: Our Top Mining Stock Pick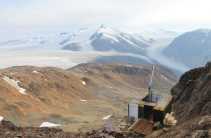 This free special WSW report is devoted to IDM Mining and why it is currently our top mining stock pick.
Grab it and get our next gold price entry point. Do not think about buying any other gold stocks before you read this report. To get this report click here