Cramer Acts Like A Lunatic At Key Market Pivot Point (07/27/2015)
By

Mike Swanson

on Mon, 07/27/2015 - 21:52
Tonight on the Cramer show the master Jim blamed the recent weakness in the stock market all on China and yelled at people buy recommendations for "nap One and Electronic Arts and a host of other stocks.
Cramer said nothing about the weakness of the internals in the stock market, the crazy valuation of the stocks he recommended, or anything to help people deal with the drops that are to come.
But he did a wonderful job for the brokerage companies that advertise on CNBC.
So it was a win!
Grab This Free Report: Our Top Mining Stock Pick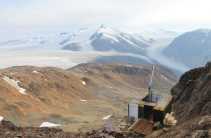 This free special WSW report is devoted to IDM Mining and why it is currently our top mining stock pick.
Grab it and get our next gold price entry point. Do not think about buying any other gold stocks before you read this report. To get this report click here