The Libertarian Angle: Mike Swanson's Book The War State (03/11/2015)
By

Mike Swanson

on Wed, 03/11/2015 - 10:23
I was honored to do an interview this week abut my book The War State with Jacob Hornberger who hosts the show the Libertarian Angle.
You can get a copy of my book by going here.
Hornberger runs the Future of Freedom Foundation, a libertarian foundation that distributes educational material to people.
It also runs a flagship monthly journal of libertarian thought that I subscribe to and a daily morning email with all of the top news stories of the day. It's one of the things I look at each day. You can get this free by going here.


Grab This Free Report: Our Top Mining Stock Pick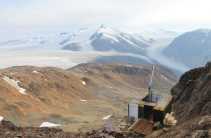 This free special WSW report is devoted to IDM Mining and why it is currently our top mining stock pick.
Grab it and get our next gold price entry point. Do not think about buying any other gold stocks before you read this report. To get this report click here