CNBC Celebrates Nasdaq 5000 - Mike Swanson (03/02/2015)
By

Mike Swanson

on Mon, 03/02/2015 - 16:44
CNBC celebrates as Nasdaq hits 5,000.
The last time it did that was back in 2000.
Kudlow explains that this time is different, because this time we have Facebook and biotech so "it is a totally different economic picture."
The market will continue to stay up and go up as long as people are willing to pay any price for earnings and willing to increase their margin debts levels to do it.
Now if you point out the dangers to the market to people as I did in a monthly newsletter this morning all you will get is people cursing you and getting angry.
Everyone is bullish and all-in all they want is to hear that the market will go up forever for them.
But when the markets turns down it will be a disaster.
Kudlow and all the other Wall Street "experts" CNBC puts on were telling people to buy the Nasdaq back in 2000 when it got to 5,000.
It only took 15 years for people to make their money back.
You invest NOT by buying into markets six years into a bull market, but by buying when valuations are cheap in markets starting new bull markets.
There is almost always a new bull market starting somewhere every year.
But all they talk about on CNBC is the US stock market so they ignore these opportunities to invest elsewhere.
And the masses that watch CNBC are too lazy to do anything else so they do nothing but eat up the bubble talk in order to convince themselves that they are positioned correctly.
All they want is to be told things will go up forever for them and CNBC delivers:
And on Yahoo Finance "Options Monster" maggot Najarjanwatteverhisname went totally nuts:
Grab This Free Report: My Top Options Trading Setup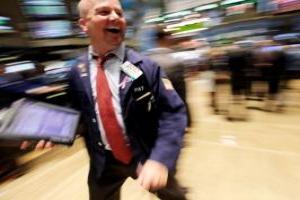 This free special WSW report is devoted to my top options trading setup. I do this one simple trade at least once a month.
Grab it and get along with it our future stock market action updates. Do not think about buying any other stocks or options before you read this report. To get this report click here