Scott Horton Show - The Ugly Truth about the Obama/Clinton Libya War Game - Mike Swanson (02/04/2015)
By

Mike Swanson

on Wed, 02/04/2015 - 12:26
In 2011 Hillary Clinton and President Obama began a war game in Libya AGAINST the advice of the Joint Chiefs of Staff who warned them that such a game had zero benefit to the national security of the United States and may actually become counterproductive.
And it has been.
Today Libya is a total disaster and has become an incubator of terror.
And the war led to the horrible disaster at the American "embassy" in Libya that Republicans have made a lot of hay out.
But now new details about the origins of the Libya war game have been revealed thanks to investigate reporting done at the Washington Times.
We now know that Hillary craved a war and was doing anything to create one while a few Senators and representatives of the JCS of staff tried to undercut her by negotiating with Gadhafi to stop it.
They failed and she got her war.
Clinton was the driving force for war in Washington and Obama simply gave his approval for her war game.
Why?
For fun, attention, and in order to position herself as a "tough" national security hawk in the next Presidential election.
For her ego TENS OF THOUSANDS have died and a nation has been destroyed and a region destabilized.
This is Clinton having fun over the war:
This is Libya today - a nation now in endless civil war thanks to Hillary:

Both Clinton and Obama attacked Bush for his invasion of Iraq in the Democratic Primary of 2008, and yet apparently learned absolutely nothing from it.
To read this series of investigative reports go here.
To listen to an excellent interview by one of the reporters who wrote this story by Scott Horton click here.
Grab This Free Report: My Top Options Trading Setup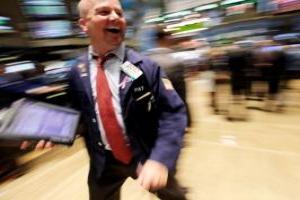 This free special WSW report is devoted to my top options trading setup. I do this one simple trade at least once a month.
Grab it and get along with it our future stock market action updates. Do not think about buying any other stocks or options before you read this report. To get this report click here